SINCE 1998
Sea Eagle's largest dealer offering
big package savings, money saving
advice, helpful reviews, and low low
prices…
InflatableBoats4Less…19 years of
low prices and "over the top"
award winning customer service.
We thank you… Tim & Crystal
---
FALL SALE ON ALREADY DEEPLY
DISCOUNTED SEA EAGLES!
Sea Eagle TC16 Travel Canoe! 

AS LOW AS $1799



Sea Eagle RazorLite 393rL!    

AS LOW AS $699



Sea Eagle 385!                              

AS LOW AS $769

385fta fishing FastTrack!        

AS LOW AS $949



465 FastTracks!                          

AS LOW AS $1049



Also included is the exciting new Fish Sup 126!      

AS LOW AS $699



Sea Eagle SE9 Fishing Boats!

JUST $399



QUESTIONS?  CAL/TEXT  THE MOM & POP
HOTLINE
928-713-7597
---
Quick-links
navigation

for our 2017 InflatableBoats4Less Mom & Pop Boat Store
2017 Sea Eagle Kayak Lineup
2017 Sea Eagle SUP Lineup
Mean Green Fishing Boat Lineu
Bug-Out Boats
FAQ
---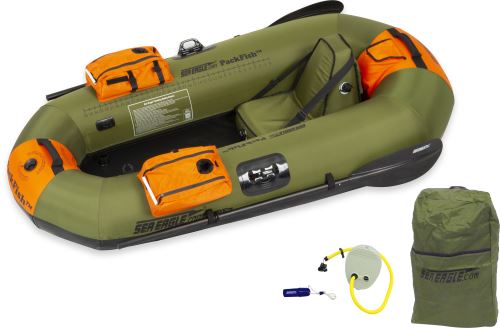 The Sea Eagle PackFish7™ is a unique, ultralight, incredibly portable, one man fishing boat that can be used two ways: (1) fished for hours while sitting on the comfortable inflatable Deluxe Fishing Seat, (2) standing with the wooden floorboard which provides stable and ample standing area for both sight fishing and casting.
The hull weighs only 21 lbs. and fully loaded with optional  floorboard (the only option available), oars and seat a mere 32 lbs. It goes anywhere, sets up in under 5 minutes and can even be worn on your back! It's as simple as that! We call it the "grab and go fishing boat!"
---
2. 385fta FastTrack™ Angler
About the Fishing Kayak Series
I was thinking, what would happen if Sea Eagle took all the proven features of the top selling Sea Eagle FasTback Kayak and added some rod holders, and Crocodile Skin protection in the fish hook zones. Well they did and here it is, The New Sea Eagle 385fta FastTrack™ Angler Kayak is here! A true rugged inflatable fishing kayak. Designed for fishermen adventuring outside traditional methods to catch fish!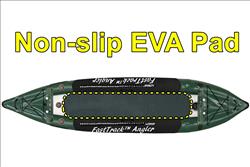 Full Length Non-slip Crocodile Hide EVA Foam Protective Padding
Full length, non-slip, crocodile hide EVA foam protective padding on floor and pontoons. Prevents slippage while providing extra protection against punctures and lacerations from fish, hooks and fishing tools.
---
3. SUPs / Fishing Inflatable SUP / FishSUP™ 126
Water Camo Patterned – Non Slip – Protective EVA Foam Deck Pad Prevents slippage while standing and provides extra protection against punctures and lacerations from fish, hooks and fishing tools. Removable Motor Mount for mounting up to a 55 lb thrust electric motor.
---

Who are these guys? 

Thanks for stopping by our little Mom and Pop boat company,Inflatable Boats 4 Less.  Mom (Crystal) and Pop (Tim) love boating, and especially so in our Sea Eagle inflatable Boats. We devote much of our time keeping you informed about the benefits of Sea Eagle boats, kayaks, and accessories. Our prices have always been the lowest allowed by Sea Eagle's MAP policy and our award winning service has been voted the highest, as thousands will attest. Our fact- filled website wins compliments and awards and provides you information you just can't find anywhere else.

That being said, we know you really want to buy from us and we also know it's mighty tempting to save a few bucks so if you think you found a better value elsewhere we want to remind you once again of our Best Value Promise. If, after you consider all the ingredients of Best Value. Our price including free options; our top rated customer service; our reviews; our top rated product knowledge; our 30 day on the water return policy; and our availability before, during, and after the sale you find a better value we want to hear about it.

PS…If you believe in the old fashioned values found in Mom and Pop stores like ours vote with you credit card and buy from IB4L.

We Appreciate You!

Tim& Crystal

928-713-7597
Every day we get questions just like the one below. Maybe you were wondering too!
Tim,

"Are these actually Sea Eagle Kayaks? Do they have the same 3 yr warranty offered by Sea Eagle? Why should I buy from you instead of direct from Sea Eagle? I'm interested in the Sea Eagle 370 Pro Pkg."

Thanks…Mike
Mike…Thanks for you question.
"Mike…InflatableBoats4Less is an approved Sea Eagle dealer..We are now starting our second decade as a Sea Eagle dealer and are Sea Eagle's largest! All of our Sea Eagle orders are filled from the Sea Eagle factory in Port Jefferson, NY with brand new boats,   Our orders are put in queue daily along with all the factory direct orders and filled from the same warehouse inventory of Sea Eagle boats. All of our customers have the same Three Year Sea Eagle warranty as Sea Eagle's customers.
Click to Read More
Dealers buy products at wholesale and choose what their price point will be. Most realize that their prices must be competitive. When we founded InflatableBoats4Less over 15 years ago our business model was founded on two simple principals. "Sell Quality Sea Eagle at the lowest price available while providing the highest level of service available."  By sticking to these principals we have become Sea Eagle largest authorized dealer.

There are hundreds of Sea Eagle dealers including Amazon, Walmart, and Cabala's but this little Mom and Pop company has risen to the top by testing every boat and every option and knowing our product inside and out. We personally involve ourselves with every customer from their first question, through the order process and follow their boats until they arrive at the customers doorstep. But we're not done yet! We are then available on our help line seven days a week to resolve any questions or problems that may arise.

This seven day a week total investment in our companies principals and in our customers shows in our 100% customer satisfaction rating by our top rated website

Tim & Crystal…owners"

---

Tim,

"No wonder you guys are the biggest dealers in the country. You really care about giving your customers your honest caring opinion. Wow, what a great business model! "

Doug"

---

Tim,

"I just wanted to say thanks to you and Crystal for the help in getting me the Sea Eagle 385 FastTrack. It is everything you said it would be and it was a great price too! My daughter and I went to the lake 2 times over the weekend and we were both really impressed. I may end up buying another since it is such a great solo kayak as you had described.

As always, thank for all of your great help in deciding what boat to get, and the great service. "

Rick
---
We are committed to Sea Eagle inflatable boats and only Sea Eagle inflatable boats!
We believe Sea Eagle offers the highest quality and broadest array of Inflatable Boat models available from any one inflatable boat company out there today and all backed by a three-year warranty! Why carry any other!
We are committed to just one inflatable boat…Sea Eagle …because we have found, again and again, that Sea Eagle has made the commitment to customer satisfaction that today's informed buyer has come to expect!
Uncomfortable Buying Online…looking for someone who speaks your language?
People just like you founded InflatableBoats4Less. Old-fashioned people who believe that you do what you say you're going to do… and you do it as well as you possibly can!
If voice mail, Internet shopping, cell phones, CD's, Email, DVD's, Blogs, Sound Bites, Digital Cameras, E-Tickets,Text Messaging. Twitter,and all the other trappings of the 21st Century make you wish for the good old days …so do we!
We'll do it your way…Give us a try!
 Tim & Crystal Ryerson
19 Years of Honest Online Dealing and 'Over The Top Service'…!
"WE HELP YOU BEAT THE HIGH COST OF BOATING"
Save with our package deals!
Lowest Prices on the Internet..Guaranteed!
FAST & FREE SHIPPING
---
Questions? Here's some important information you need to know..
I want a kayak. Which Option Group?  Deluxe or Pro Option Group?

What the story on the seats?
What's really the difference between the expensive Sea Eagle boats and the lower priced Sea Eagles?
Do you ship to Canada or any other International Location?
How much is shipping?
How abut sales tax?
How do I pay?
Is your site secure?
All this and more are discussed below.  Prices and Discount Option Packages are found on every product page. There are no sales taxes except shipments to Arizona. Once you find the boat, or kayak, or SUP select from the option groups and click on "ADD TO CART." This will take you to our secure PayPal Shopping Cart to find our guaranteed lowest price. Once on the Shopping Cart page you can continue to shop and add more items, you can also delete items, and you can update quantities. When you are done shopping click on "CHECK OUT." On the Check Out page you can Choose A Way to Pay. Our site is safe and secure and we never send spam or sell your address or personal information to spammers….Read More >>>>
---
24/7 After-Sale Help Line! 928-713-7597

Thanks for stopping by….Tim & Crystal
Let's Connect…
In Business
In Pleasure
In Spirit
---
In Business ↓
.….since 1998  
---

 

…..since 2005



---
In Pleasure ↓
  …..since 2011
---
In His Spirit  ↑