Questions & Answers You Need to Know
We take lots of phone calls and respond to even more customer emails with good questions about our Sea Eagle boats, kayaks, and accessories. If you're visiting this page that must mean you have questions too. I'll bet you're wondering about some of the same issues we attempt to cover below. Let's start with the Top Ten Inflatable Kayak Myths, then move on to Flying with a Sea Eagle followed by a customer who wanted to know which kayak should he buy. Our answer includes a  1 thru 5 Ranking of our Sea Eagle Kayaks.
If YOU HAVE A QUESTION?
Call 928-713-7597…and we'll talk…
Or just drop me a email and I'll get right back to you.
Who knows…maybe you'll find your question listed here.
Let's go…
---
Let's get started with the Top Ten Inflatable Kayak Myths
then we'll move down to the ranking of the 5 Sea Eagle Kayaks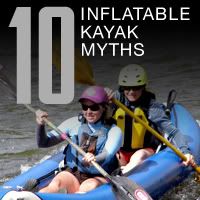 Everyone knows how easy inflatable kayaks are to store and transport. But there are a lot of misconceptions about inflatable kayaks. Most of these are perpetuated by the poor performance of cheap blow-up rafts sold at sporting goods and department stores during spring blowout sales. That's not what you get when you invest in a Sea Eagle Kayak.
It's time to set the record straight.
1.Myth: They pop the first time they hit a rock
That is probably true of the swimming-pool toy you bought for your kids. Modern inflatable whitewater kayaks are a different breed. While punctures can happen, they rarely do. Most of the time the heavy-duty PVC outer shell bounces right off the rock without incident.
Click to Read More
2. Myth: They are sluggish and not very maneuverable
I remember paddling around a lake in a little rubber raft. Every time I took a stroke on one side the raft spun around in a circle. It was like paddling an inner tube. I couldn't control it and it took me forever to get from one side of the lake to the other. But, well-made inflatable whitewater kayaks track well across the water and allow you to maneuver quickly on the river.
3. Myth: They can't handle whitewater
The Sea Eagle Explorer 380 and 420 are Class IV Whitewater kayaks  and many other manufacturers sell inflatable kayaks that perform amazingly well in class IV whitewater.
4. Myth: They swamp easily
Because inflatable kayaks don't have an enclosed cockpit, you may think that inflatable kayaks will fill up with water more easily than their hardshell counterparts. But a good whitewater inflatable kayak is self-bailing. There are holes in the floor in the seams of the boat that allow any water to quickly drain out the bottom of the boat.
5. Myth: A kayak with an enclosed cockpit will keep me drier than an inflatable kayak
You might think since a traditional hard-shell kayak has an enclosed cockpit, you won't get wet. But a traditional kayak just doesn't keep all the water out, especially in breaking waves and whitewater. The skirt is not waterproof either, and most hard-shell kayakers come out pretty wet anyway. The cockpit and skirt are designed to keep enough water out of the boat to prevent capsizing but it never stays completely dry inside. Inflatable kayaks sit much higher out of the water, so if you are paddling on flatwater, you will likely stay just as dry as if you were in a cockpit if not more so. If you want to stay dry, wear a drysuit. That goes for both enclosed cockpit kayaks and inflatable kayaks.
6. Myth: They aren't as stable as a traditional hard-shell kayak
Inflatable kayaks often have a wider base than hardshell kayaks. This makes them incredibly stable even in large waves. I can't count the number of times I've seen a hard-shell whitewater playboat get tossed around on a wave that an inflatable kayak handled easily.
7. Myth: They aren't for serious kayakers
First of all, kayaking isn't about being serious, it is about having fun. But to answer this question, check out the Aire's blog. The upper clackamas whitewater festival had many whitewater competitions for inflatable kayaks, giving out prizes for the top competitors.
8. Myth: Inflatable kayaks can't eskimo roll. If I fall out, I won't be able to get back in.
True, inflatable kayaks were not designed with the eskimo roll in mind. But if you bounce out of your inflatable kayak, it is not too difficult to get back in. I've seen kayakers bounced from their boats in the middle of a huge rapid and bounce back in and keep paddling in seconds. Of course this takes practice, but so does the eskimo roll. And if you outfit your inflatable kayak with thigh straps (available on request), chances are you won't fall out of your kayak in the first place.
9. Myth: They are difficult to inflate
Remember blowing up that floating mattress for your swimming pool? After a few minutes of furiously puffing the raft was nowhere near inflated and you started to see spots as you hyperventilated on the valve stem. Fortunately inflatable kayaks come with a hand pump that quickly inflates the boats, pushing air into the boat on both upward and downward strokes.
10.  Myth: They aren't as much fun as a hard-shell kayak
It's true you can't roll in an inflatable kayak. You won't be doing enders, cartwheels, blunts, or the McNasty. But would you really be doing that anyway? Unless you dedicate your life to the art of playboating, you'll be using your boat to ride waves, play in holes, and enjoy the natural surroundings. This is where inflatable kayaks excel. Most beginners who try inflatable kayaks are more comfortable on the water and start having fun much more quickly than those in hardshell kayaks. I love my hardshell kayak, and use it all the time. But when I recommend kayaking to my friends, I always recommend inflatables since I know they will start having fun right away.
---
One question that comes up from time to time is can I fly commercial airlines with my Sea Eagle kayak. Click on the link above to hear how this clever customer handled one of our largest and heaviest kayaks the Sea Eagle 420. In case you're curious our most packable kayak is our Sea Eagle FastTrack.
---
The all around number one question that we hear in phone call and emails. Hopefully these rankings and reviews will educate and interst you. please feel free to comment with your opinions on your favorite Sea Eagle kayak. War stories appreciated!
---
Car Topping can be done safely and give you more on the water time. We live near several local lakes and leave our kayak inflated in the garage. When it's time for a quick run to the lake we strap our kayak on the roof of our CRV and head for the lake. Here's how we do it…
---
Here are interesting emails with good questions and how we responded.
---
On the PaddleSki

Hi Tim,
I'm looking to buy an inflatable and having a hard time deciding between the 380 and the PaddleSki.  I had hoped that our paths would cross or that I could make it to one of your tour locations over the winter to check them out but personal business has kept me on the opposite side of the country.
Click to Read More
Now that I'm on the move and heading west, it appears you will be heading for Memphis after finishing up in Casa Grande.   I'm currently in Big Bend National Park and expect to be here for another few days before continuing west.  Do you have any plans to stop at any specific locations/shows for a few days….in the next couple of weeks?
With the number of boats you list on your website I'm not sure if you travel with demo's of the type I'm interested in or if you have them shipped to your next location.  Any information you could provide would be welcome.
There is no cell coverage in this area so will need to rely on email for the time being.
Thanks for any help you can provide.
Greg
A:
Greg,
Thank you for your interest in a Sea Eagle Inflatable Boat.
Our favorite kayak is the 435 Paddleski because of it's stability and versatility. It is an easy boat to get on and get off.  Crystal often times will just walk on to the boat, so she doesn't get her feet muddy or wet and then gets situated and I pull the boat out to deeper water. We both like the ability to move around on the boat, kick our feet over the edge and never worry about tipping the boat over.  One of our favorite options for the Paddleski is the Motor Mount and a Trolling Motor.  It allows you to get into some great wildlife viewing areas like a stealth machine.   The 380 Explorer Kayak is a great white water boat. If most of your paddling will be white water…this is the best bet.   Most people think it looks more comfortable to sit IN the boat rather than on top like the PaddleSki. Not true! The PaddleSki is our most stable, driest, and safest kayak and the best choice for beginners.
Thanks for your questions!
Regards,
Tim
Greg has more…  
Q:
Tim,

Thanks for the quick response and additional information.  We don't do a lot of white water so if the Paddleski is good for up to class 2 then it should workout fine…. we can always rent if we want to do anything more.  I do like the idea of being able to attach an electric motor to the Paddleski.  I don't know much about electric motors but would be curious to know if it would be possible to kayak down stream and motor back…?  Any experience with that?
We would like to see one before ordering if possible…. but what kind of delivery/shipping time would I be looking at for the Pro package?  One of the problems with being full time is trying to schedule shipping when you don't stay in one place very long.
We are heading west and will also be spending some time down in Rocky Point visiting with friends who own a business down there, but don't have any type of schedule so I'm not sure when we will be there or in Arizona for that matter….  If your going to be in Arizona for several more weeks we should be able to work something out.
Thanks again for the information.
Greg
A:
Greg,
Sea Eagle delivery time is 1 to 5 business days coming from New York. (AZ is five days..East Coast one day). Add two days for order processing and the Sea Eagle shipping department to get your boat to the UPS shipping dock. We can arrange to have UPS customer will-call order delivered to a UPS staffed location along your route. Tracking is included so you can watch your order come to you.
This is Spring and Sea Eagle boat biz is booming. Spring is also the time for Sea Eagle backorders. Timing deliveries to mobile buyers is really what we do. Working around Sea Eagle backorders is just an added challenge. There are just 2 PaddleSki's in the Sea Eagle warehouse at this time. They'll probably be gone today.
We bought our Sea Eagle PaddleSki in 1998 online…sight unseen!. Most customers do the same. I wasn't disappointed…I got the hard boat performance I was looking for along with inflatable portability. The motor mount, sail rig were added bonuses I came to enjoy. Eventually all this happiness led to becoming a Sea Eagle dealer. Not much time to kayak anymore.
As to the motor-up…drift-down question. If the river you're drifting is deep enough and slow moving enough no problem. The Colorado River near Parker (think Emerald Cove CRA ) runs around 6 mph and the MinmKota Endura 30# thrust will go upstream if you stay where the current is the slowest.
Tim
Greg arranged his schedule to meet us the folowing week to see, touch and sit on the PaddleSki. He left a short time later with the PaddleSki in his trunk.
---
More Kayak:
The folks below had questions on the Sea Eagle 330 kayak but seemed open to sugestions so read on.
Q:
Tim–we raft and canoe in the Rockies and are excited about an inflatable
kayak we two 60-year-olds could day-paddle and/or fish with here AND take
traveling to ocean water. Which model do you recommend and is the "pro"
version that much more comfortable?
Click to Read More
A:
Great questions…! These are the same questions that my wife and I had back
in 1998. We chose the PaddleSki Deluxe Package. With what we know now,
all these years later…we would still choose the PaddleSki. The
PaddleSki is our safest, driest, MOST STABLE, easiest to inflate and
deflate, and easiest for this 64 year old to get on and off. Add a motor
mount and a trolling motor and you have a stealthy bird/animal watcher too.
The incredible stability of the PaddleSki overcame my wife's fear of water.
She likes to sit in the bow of the PaddleSki and read while I fish. Fish…?
You bet…! The PaddleSki is a superior kayak for sight fishing. Now the bad
news…the PaddleSki is a lot more money and yes…the Pro model (even more)
in all of Sea Eagle's kayaks are more comfortable.
Regards,
Tim & Crystal Ryerson
---
A short time later we recieved a order for a PaddleSki 395 and a PaddleSki side motor mount.
Jay has a couple of questions….
Q:
Can you tell us more about the center mount for an outboard motor for the 435 PS? First time we have heard about that. What HP will the Sea Eagle accommodate? Appreciate any info you can tell us about that. Thanks.
Jay
Click to Read More
A:
Jay, The center motor-mount is a new option that will accommodate up to a 3 HP outboard.This option will replace the rear aluminum strut in a simple one-minute operation. One of the features I enjoy is  once installed the motor mount can be left installed. A great option…I approve!
Tim
Q:
Hi Tim; We are on the verge of ordering. Just a couple more questions about the 435PS if you please.   Can the front seat be reversed to face the rear?   How is the center section constructed? What is the material that the seats sit on and what gives it its strength and structural support. Obviously there is something I don't see there. Even with the aluminum yokes, what keeps the pontoons from rolling out to the sides.   How many "D" rings are their on each side for tie-downs?   How deep is the center section and how much water does it retain? Is a bailer recommended?   Thanks for your assistance. Will be getting our order to you very soon.  
Jay
A:
Jay,   You can arrange seats in an infinite number of positions including facing the seats to the rear.   There are 6 pairs of D-Rings mounted along the top deck of the PaddleSki. More D-Rings can be purchased($6 ea.) to personalize your PaddleSki. The passengers sit on a durable, very thick, almost rigid vinyl material that is sewn and glued between and on top of the two side pontoons. Three aluminum struts on top are bolted thru to three aluminum struts below the vinyl seating area to make a rigid platform for the passengers to sit on and to keep the hulls equidistant. The passenger seating area is just below the top most level of the pontoons. Water pooling in the seating area is mitigated by a number of small holes in the passengers seating area and the fact that water will run out of the open back if you should take on heavy water in white water conditions.No bailer is necessary. Just a sponge or micro-fiber towel.
Tim
Jay ordered a Sea Eagle PaddleSkli   
---
Another PaddleSki question.
John just had to tell us how much he likes his new PaddleSki 435 Pro kayak.
" I just wanted to let you know that I received the Paddleski 435 as scheduled and had the opportunity to use it this weekend.  I am very happy with it, especially the way it really moves well in the water and at the same time is extremely stable in both smooth and choppy conditions.  I was also very impressed with how easily the boat was to set up and put away, and how light it was to carry given its size and capacity.
My girlfriend and I spent the day fishing from the boat on one of the local lakes and both of us were very pleased with the fact that the boat was far far more stable than we imagined it would be and had more than enough room to easily hold all of our equipment with tons of room to spare, which will be great when we take it on an extended camping trip later this summer.
The boat also drew a lot of attention at the lake, especially from a number of kayakers, because of its unique design.  I recommended to several people that they look at your website to learn more about the boat and the accessories available for it.  I also told them that I got a great deal with you and would recommend purchasing from you, if they decided to get an inflatable boat or kayak, because of the excellent price and service you've provided me.
My friend is still thinking about which type of boat would best fit his needs, and hopefully will make a decision within the next couple of weeks.  He says his only problem with Sea Eagle is that there are too many different styles to choose from (which is certainly a good problem to have for anyone shopping for a boat!), so now he's not sure exactly what he wants.
Thanks again for the everything!
John
We're betting that you'll like the Sea Eagle PaddleSki just as much as John…!  Thanks John…!
---
On the top-selling SE330
Sometimes things don't work out as planned. Read on to see if this story has a happy ending. We include this email just in case you have the same problem.
Q:
Hi there, we received our boat and have inflated it, unfortunately one of the sides seems to have a slow leak. First we thought it was the valve, and I will try again to ensure that it is correctly closed. Will let u know the outcome and then maybe you can let me know what will happen if this is indeed a defective item.
Thanks appreciate your help.
Heike
Click to Read More
A:
Sorry to hear about your leak. We occasionally hear about leaks in 330 kayaks when they are inflated for the first time. Here are the common causes.
1. Most common problem. The inner white valve that screws to the threaded white valve mounted into the hull fabric is not screwed tightly or it is cross threaded. Simply remove the inner valve and screw back on taking care that it is correctly seated and then tighten tightly. Fill with air and watch for 24 hours.We always spray the suspect valve with household cleaner (or soapy water) to look for telltale bubbles.
2. The next problem occurs rarely but check the threaded white valve mounted into the hull fabric for a ridge or notch across the threads. If you see this apply heat from a hair dryer and the notch will disappear.
3. Very, very rare problem. The hull material has a crack along the tight folds in the boat fabric caused by cold weather(freezing). This happens because the boat is tightly packed in the shipping container and/or too many are stacked during shipping during winter months(ie:UPS screw-up).If this happens we replace your hull. This is a painless solution. We send you a new hull (only) and issue a electronic call tag to have UPS pick up the defective hull.
Please don't stress or worry…we don't have many problems…but when they occur we handle them to your complete satisfaction..! Please 928-713-7597 if you can't resolve this problem or if my instructions are confusing. We won't rest until this resolved so please keep us in the loop. TIM
Happy Ending:
Hi there, thanks sooooooo much for your quick and wonderful response. We have successfully inflated the boat and it now holds the air. I guess it was that one valve that was giving me a hard time. Thank you so much for your GREAT customer service – it is appreciated.
I will leave positive feedback for you and I hope u do the same for me.
Happy boating.
Heike
2nd Happy Ending:

Heike ordered a second Sea Eagle 330 for her Dad a short time later.
Q:
I really like the look of your kayak, I have been looking at inflatables for some time, dragonfly seyvlor etc but really like the look of your kayak. I am a 60 yr. young woman and live near a lake and would like to paddle the shore line with my dog. Would one person be able to handle this kayak. Also what about the depth of the kayak interior. Pictures appear to vary and I don't want to be sitting on top. What about stability as far as side to side motion, I realize you can tip anything over if you try hard enough but that is an important feature to me. Also appreciate the dual skeg system would appear to be an excellent feature is there a front tracking or steering feature as well. are there foot supports or braces. I am sorry for all the questions. I know very little about this subject but don't want to purchase something I will be afraid to use or that is unmanageable. I looked at hard shell as well but the trailer to haul one is another issue. Thank you so much for your time. J.
A:
Thanks for contacting us with your observations and questions.A healthy 60 year ols woman or man can easily handle the Sea Eagle 330 kayak. This is the boat that this 64 year old uses to carry in to the high lakes for a little fishing. I don't have a dog anymore(nuts)but don't worry J…the 330 hull fabric is dog-proof! You do sit down deep and snug in the 330 and after a few minute learning curve your fears of tipping will be erased forever. I think that the skegs on the back are all you'll need. Keeping any general purpose kayak (inflatable or hard)tracking straight comes more from paddlers technique than boat design. The best tracking kayaks are long and narrow and unstable! The most stable kayaks are wide and inflatable but tend to wallow.It's hard to get it all in one kayak but the two skegs on the 330 go a long way to improve tracking without sacrificing stability. The 330 doesn't have foot braces. You squeeze your outer thighs against the inner bulge of the inflated pontoons for balance then short choppy paddle strokes keep you going straight down the middle. Put a passenger or paddler (dog or human)in the front seat and push your feet against the front seat back for additional power as well as additional back support for the front passenger/paddler. You mentioned other inflatable brands.Sea Eagle inflatable are the most trouble free of them all. Gotta go…it's time to paddle…TIM
Q:
 Hi Tim!
In two minds about the Sea-eagle 330 ? I am planning a fishing trip to the
Bahamas outer islands. I basically need an Kayak that's light (due to the
limited baggage allowance on the small planes )  and capable of getting me
a mile up some inland saltwater creeks to do some fishing. I have read that
the 300 is difficult to paddle and is slow ? Would this be an issue on a
mile / two mile trip ? Do the 8 foot paddles work better than the 7foot
back pack  paddles ?
Are there any alternatives kayaks for this price range up to around
$350/$400?
Many thanks
Ian
A:
Ian,
At the risk of wearing out the old adage, "you get what you pay for," all
kayaks(hard or soft) have a return in quality,stability, speed, and tracking
commiserate with the cost. I have taken a 330 on many 2 mile jaunts but I
did go slow and the 330's below avg. tracking wasn't a concern  because the
330 was literally the only boat in my inventory that was light enough to
carry solo into these remote locations. It was the 330 or nuthin'…!  My advice is
to take the 330 and put up with it or increase your budget to $749 and buy
the Sea Eagle 340. The Sea Eagle 340 packs down even smaller than the Sea Eagle
330 but it's not as light.
Tim
Heidi read between the lines on my answer above and thought I meant the Sea eagle 330 kayak is just one step above "nuthin!" Not at all! Just in case you took the same meaning… see if this helps.
Q:
Hi Tim,
We are a family of 4 (with 5 and 7 year old boys) who are outdoor enthusiasts.  After a 2 day canoe trip on the Shenandoah River (rented a canoe), we are looking at purchasing 2 inflatable kayaks/canoes.  We would primarily be using these on area lakes and bays, and rivers up to class 2.  We aren't looking for super performance, but for something to get us through the next few years without having to rent everywhere we go.  Because we need 2 we are looking to keep our costs down.  After quite a bit of online research, we thought we wanted the 330 but after reading your answer to the very last question…about when it's the "330 or nothing" because you are going someplace where you can't take anything else, we are thinking maybe it isn't the best option.  Any thoughts?
 Thanks!
 Heidi
A:
Heidi,
As I was reading your email I was thinking 330…that's just  the boat for Heidi…until I got to your last sentence! Let me explain. The 330 is not the best kayak we offer for cruising, and it's not the best kayak we offer for tracking and it isn't our fastest…but it is our lightest and least expensive. When I was hiking into the high country lakes to fish I had three different kayaks in my truck to chose from. My favorite, the fast and stable and straight tracking PaddleSki 395 was out because it weighs 50 pounds, The class-four capable Explorer 380 was also too long and too heavy. So…it was the 26 pound 330 or nuthin"!
So Heidi…if you have $1500 the best two kayaks for your young family would be two Sea Eagle PaddleSki 435's. But.. if you're like my Daughter and her two boys, money is tight and compromises are made.  The Sea Eagle 330 is a good kayak for you budget…probably the best kayak available out there. The Sea Eagle 330 is absolutely our best kayak value per dollar spent! So…if paddling is in your blood and you want two good kayaks to get you out there in the great outdoors..the Sea Eagle 330 kayak is the boat for you. This is the same advice I would give my daughter.
Heidi, we have a second boat discount so knock $50 off the second 330 Boat'N'Bag and you have two 330's for $548…!   Hope this helps.
Tim
By the way…there's a second boat discount for you too…just ask for the Heidi special…!
---
On The Explorer 380
This just in from one of our eBay listings:
Q:
What is the real difference between the 330/370 and the 380? Besides the $500? What would make it worth spending the extra money?
A:
Wow…! Great question. The roomy Explorer 380 is a supported fabric boat that is almost rigid when inflated and darn near bulletproof. The snug fitting 330 is an unsupported fabric that can't be inflated as tightly making it a soft boat and more vunerable to puncture. The 380 has 16 large self drain valves and stainless d-rings while the 330 has just one rear drain and no d-rings. The 330 comes with a inexpesive laundry-bag type of storage bag while the storage bag for the 380 is a high quality storage syatem with carry straps and 6 tightening straps. The 380 is a serious expedition quality kayak you could stake your life on. The 330 is a recreation quality kayak.The 380 tracks much, much better and paddles much easier. Bottom line…? It is very definately worth the extra $500! TIM
---
On Fishing Boats
Q:
Dear Tim; I have been visiting and revisiting your website for several days until I think I have it memorized—I appreciate your honesty and straight forward comments about the Sea Eagle product. I have made what I think is the correct decision and I would like your input as to whether you think I have missed anything—Let me give you some quick background—I am 64 and a coronary bypass patient who has some physical limits to lifting and toting—I live in the suburbs of Denver and want to fish small lakes and ponds throughout Colorado both on the plains as well as the mountains—I probably will not go on the rivers too much if at all.
Click to Read More

 My only fishing companion will be my wife and so there will not be normally more than 2 of us in the craft—-most times I will go out alone as she still works full time and I am luckily retired. I expect that a normal weight load for us and gear along with motor, batteries etc will be about 600 lbs. Lastly, my budget is very limited this year and therefore puts me at a slight disadvantage. I have pretty much decided to purchase an SE9 motormount boat—-I think it will give us a decent amount of room and seems to be light enough to be handled by me alone if need be. I do have a couple of questions— 1. I want to know if there are an appreciable difference in the frequency of punctures, leaks etc in the 38 mil skin—-I realize it is much less strong than the other boats but one of those has to wait until next year. 2. What about fish hooks on the 38 mil skin?—- 3. Can rod holders be added in any way? I wanted to check out one of these boats so today I drove 200 miles each way from Denver to Cabela's in Sidney Nebraska—-I should have called first as they have none in stock and only order—-of course they don't tell you that in their catalog or their website……oh well I wasn't going to but the thing from them anyway. I look forward to your comments—-and I look forward to making a purchase this week Thanks for your assistance Bill

A:

Bill,

I hope our website was some help to you. Thanks for contacting us…!

How about these similarities. I'm a 64 year old coronary bypass patient, although without any physical limits. I got involved with Sea Eagle boats just after my bypass in 1998 as a form of therapy. A couple of years later we became Sea Eagle dealers and I've been slinging these boats around constantly for the last five years.

You seem excited about the SE9. Excited to the point of a 400 mile round-trip to see what they look like…! Sorry Cabela's wasn't the answer…! Most of the Sea Eagle dealers are not stocking dealers which you unfortunately discovered. Most also don't have a clue what Sea Eagle boats are all about. They are just another commodity to them. As our website points out, we eat, sleep, and breath Sea Eagle boats.

The Sea Eagle SE9 will do all that you are looking for in a boat and do it very, very well. There are many manufacturers of inflatable boats in the same price range but none has the durability and longevity of the Sea Eagle SE9. Without getting into detail or naming names, we do hear horror stories of seam failure and poor quality in all of the other name brands available that compete with Sea Eagle in this price range. On the other hand, we are constanlty amazed by the praise sung by Sea Eagle SE9 owners. The 38 mill fabric will handle everything you can throw at it. The SE9 shrugs off Rocky bottoms, tree snags,fish hooks, and all the other abuses you can think during your time in the water, and off the water.With good care and seasonal cleaning along with common sense storage, a SE9 will out last both of us…!

Now to your questions:

1. I want to know if there are an appreciable difference in the frequency of punctures, leaks etc in the 38 mil skin—-I realize it is much less strong than the other boats but one of those has to wait until next year.

I talked a little about the durability of the fabric above. My guess is that you will seldom have any hull punctures in normal operation especially from fish-hooks. Most of the fishing punctures reported are caused by spiny pan-fish that were laid on the inflated boat fabric during hook removal leaving behind small pin-holes. If you put a piece of canvas on the boat while handling fish this will be prevented. When next year comes we can help you with the sale of your SE9 or take it in trade.

2. What about fish hooks on the 38 mil skin?—-

This is covered in #1

3. Can rod holders be added in any way?

Yes they can. Most rod holders have flush mount adapters that can be installed on the front and rear bench seats after drilling. Looking forward to your purchase. Hurry before the SE9's go on backorder. There 53 SE9's in stock as of Friday noon.

Regards,
Tim Ryerson
---
Q:
Subject: Sea Eagle 8 motor pkg.
I am considering purchasing the Sea Eagle 8 with motor pkg. I need to know what battery and charging system would work best with the Minn Kota Endura 30 motor included with this pkg. Cabelas suggests thier AGM 24 deep cycle battery. However, this thing weighs 53 lbs. Is this too much weight for the back of this raft? Is there other batteries options that you would recommend or is the Cabelas AGM the way to go. Thanks, Tom
Click to Read More
A:
Wow…! Great questions. First I'll tell you what I use. I buy a type 24 RV/Marine Deep Charge battery from Costco (@40#) , put it in a battery box and slide it in the back under the rear seat. The boat can handle a football team and not sink so the battery weight is no problem. Then buy the cheapest 10 amp charger available with auto cycle(turns off after full charge). In my opinion, the AGM batteries have not reached the stage where they will handle the number of charges and recharges that a flooded cell battery can handle. And they are expensive and have a smaller capacity and shorter running life before recharge is necessary!
Tim
---
Q:
Tim, I'm looking to buy a inflatable fishing boat for rivers and lakes. Last year, I bought the Sevylor fish ranger FT280. I thought I was getting a strong boat. I took only 4 trips. I never over inflated, and only used the pump that was made for the boat. The 5th trip, as I inflated, a seam ripped and luckily it happened before I went in the water. From the 2nd trip on, there was always a slow leak that made the boat get soft after a few hours…Believe me, it wasn't because the boston valves were on wrong either..Im looking for a new boat, I cant trust the fish ranger. Is the Sea Eagle 8 much stronger than the Sevylor fish ranger. What boat from your site would be a good pick…500 dollar range?
ED from PA
Click to Read More

This is how I responded.

A:

ED, Sorry to hear that the Sevylor fishing boat didn't work out. It's hard for me to compare Sevylor products to Sea Eagle. While Sea Eagle lists full specs on their products on their web page (and mine), it's hard to find any information on the Sevylor products.. The important information that informed buyers need to know, like specs telling you how thick the material is, or how the seams are welded are just not available from the sites I Googled.I haven't even found the length of the factory warranty. I do know that the Sevylor and the Sea Eagle SE8 are low-pressure vinyl boats which are the entry-level product for each of the companies. I also know that there are lots of Sea Eagle SE8 fans, many who have owned their SE8's for more than 20 years. Bottom line, in answer to your question asking if the SE8 is stronger then the Sevylor, not really,Sea Eagle boats are just built better. I've never heard of a seam failure on any Sea Eagle boat including the SE8.

My recommendation? Look for the higher quality found in the high-pressure PVC boats that are offered by Sea Eagle in it's Sport Boat line or the Zodiak ( Sevylor's parent company) high-pressure multi-layered PVC boats.This boat material can be inflated to over 3 lbs per sq. inch (seven times firmer then vinyl boats) which result in a boat that is almost rigid and darn near bullet-proof! This is the same boat material that is used by most Fire Departments and Search and Rescue units for emergency work . Unfortunately this line of boats comes in at nearly double your $500 budget and double the weight.

Tim

ED's not done yet

Q:

Tim, thanx for letter, very helpful. Its a hard choice on buying a boat when all you can see are just pictures of it. I found 3 boats that I like(i think). The SE8, the SE9 and the SE 8.10…Now the SE 8.10 is a lot more money, But I need a good inflatable boat since I have a small car and some of the places I fish have a 10 minute walk(but I built a cart for pushing the raft and gear) and a reg. boat would be to hard to get to those spots. The SE8 and SE9 look great and roomy, but the specs on the SE 8.10 points to a stronger made boat. How do these 3 boats compare to you? I'm looking for a good strong boat, that can fit 2 guys, and can be set up pretty easy. Hey, no hurry, when you get time please send me an email. Thanx for the help,

ED from PA

This is how I responded.

A:

ED, The SE8 & SE9 are good boats with many fans however the material they're made with is inferior to the fabric that the 8.10 is made from. If you had a 8.10 and a SE8 sitting in front off you the differences would be obvious. If you knelt on the side tube of the SE8 you would sink into the side quite far while it would be actually possible to stand on the rigid side-tube of the 8.10 You would also notice that the 8.10 has a permanently mounted sturdy transom(will hold a 8HP) while the SE8 has aluminum tubes that hang from the back on which to hang a small motor(3 HP). You would also notice the lifeline around the top deck of the 8.10 is thicker and more substantial as are all the plastic pieces. The 8.10 has real oarlocks and quality oars while the SE8 has flimsy oars that don't lock to the hull.

Tim

ED again.

Q:

Tim, Hey, Sorry about all the questions..I just wanna get this right (these boats cost alot of $$– but are worth it!) . Is there a big difference in interior space 8.10 vs 10.6(mainly between the 2 seats with two people fishing). Its hard to tell from all the pictures.. Also, lets say I buy or borrow a bigger engine, can the 8.10 plane (even though it has no keel)?

ED Thanx Tim….Merry Christmas!!

A:

Ed, There is a noticeable difference in interior space between the two boats. It's a little tight for two fishermen and their gear in the 8.10..the 10.6 is better in this respect. All the additional interior room of the 10.6 is found between the seats. This is true in each successively bigger boat model all the way up to the 14SR. The 8.10 is not designed to go fast so planing is not built into the design however with a 5 HP and a light load you can go apx 8 mph.


I think I'm going to publish these email questions and their answers in a book. Seriously, I don't mind your questions a bit….keep 'em coming.

Tim

ED saved his money and purchased a Sea Eagle 8.10 and I'm still working on the book.
---
On our Shopping Cart
Q:
Tim, I am interested in buying the sea eagle 8 raft from your site,
However, I am a little concerned about signing up for a paypal account,
giving out my bank account numbers and all.Is there another way to make a purchase with you…?
Click to Read More
A:
PayPal is our Credit Card processor chosen because they offer the highest
level of protection to buyer and seller but having a PayPal account is NOT
NECESSARY!  When checking out scroll past the PayPal logon to the box
labeled "Don't have a PayPal Account?"..and then choose the credit card of
your choice.
I can also take orders by phone 928-713-7597
Thanks,
Tim
---
GOT A QUESTION?
928-713-7597…Let's Talk!
Or just drop me a email and I'll get right back to you.
My seminar, entitled "How owning a inflatable kayak can improve your sex life" or "How does a inflatable boat fit into a RVers lifestyle" covers the top ten most asked questions I've heard over the last four years.
Variations of "I'm afraid I'll get a hole in an inflatable and sink." "Will a fishhook poke a hole in the boat and I'll sink" made me believe that most people want their boats to stay afloat. By far this is the number one question asked! I discuss the types of fabrics inflatable are made from and how durable they are.
"How do you inflate them" and "How long does it take to inflate them" are answered by arriving at a seminar with an inflated boat, (space and logistics permitting) which I deflate and re inflate while addressing the rest of the top ten questions. I discuss types of pumps and their ability to inflate the variety of inflatables on the market.
"What is the deflated size?"   "Will that thing fit in the space I have available in my RV?" I bring along a deflated boat in its storage bag to the seminar as a visual aid. I have discovered that size does matter!
"How stable are they?" I guess this goes back to most peoples desire to stay afloat. They like being on the water not in the water. We discuss the stability of inflatables vs. hard boats they may be familiar with.
"What size engine will it take?" This question is moving up the charts so we discuss the different types of inflatables available and horsepower, weight, and speed over the water issues.
"How much does it weigh?" Again I refer to the visual aid….a deflated and stored 395PS inflatable cat kayak, which is a 13' boat in a sleeping bag size carrying case and weighs a surprisingly light 49lbs. We also discuss the different types of inflatables and their weights.
"How much do they cost?"   Probably would be the number one question but these questions are coming from my sales display with all boat prices plainly marked. We discuss different types of inflatable and their costs.
"How long does it take to deflate?" This was, or will be, answered in the ongoing demonstration.
"Can I use the compressor in my rig to blow it up?" Probably already answered in #1 but we cover it again. Short answer, "NO."
  "You'll never get it back in the same bag again!" I guess this is more of a statement not a question but time permitting; we do indeed get it "back in the bag," every time