New and Improved Sea Eagle FastTrack™ Inflatable Kayaks with an even More Aggressive Design, Standard Swept Back Skeg, and "Overbuilt" Super Seams.
---
TAKE ANOTHER $100 OFF OUR ALREADY
DEEPLY DISCOUNTED SEA EAGLES!
Sea Eagle TC16 Travel Canoe! 

AS LOW AS $1799



Sea Eagle RazorLite 393rL!    

AS LOW AS $699



Sea Eagle 385!                              

AS LOW AS $769

385fta fishing FastTrack!        

AS LOW AS $949



465 FastTracks!                          

AS LOW AS $1049



Also included is the exciting new Fish Sup 126!      

AS LOW AS $699



Take Another $50 of the Sea Eagle SE9 Fishing Boats!

JUST $399



CAL/TEXT

928-713-7597

FOR OUR ROCK BOTTOM FALL KICKOFF SALE PRICES ON THE SEA EAGLE MODELS ABOVE,
**************************************************
The Improved Sea Eagle FastTrack™ Kayaks are now sleeker, faster and lighter than ever!



Sea Eagle's Patented NeedleKnife™ Rigid Inflatable Keel

The unique external drop stitch construction inflatable keel allows the FastTrack™ to paddle far faster and straighter than other inflatable kayaks. The keel features sharp bow and stern molds that slice through wind, waves and current for a super fast, super clean entry and exit! The inflatable bow keel also provides the buoyancy and lift needed to ride over waves and further improve speed. (U.S. Patent #8,286,573 2)




Super Rigid Drop Stitch Floor On Top Of Outside Floor

The unique modular design of the Sea Eagle FastTrack™ features a super rigid, high pressure, drop stitch floor that sits on top of an outside floor. This has several advantages. The high pressure DS floor provides great rigidity and rigid hull like performance. The reinforced outside fabric floor provides a double layer of added protection where it's most needed. The modular design allows the DS floor to be easily removed for quick and thorough cleaning.
The new FastTracks™ have achieved a breakthrough in design, will crush the competition and are nearly unstoppable
Sea Eagle FastTrack™ Kayaks are sleeker, faster and lighter than ever! The FastTrack's™ combination of sleek, curved, touring shape with state of the art "NeedleKnife Keel" provides a true rigid kayak performance in an inflatable. Most importantly, the FastTrack™ is designed to be extremely safe and stable.
High Performance/Ultra Light Weight
A great feature is the fact that Sea Eagle FastTrack™ kayaks weigh far less than most all-rigid kayaks. Rigid kayaks can weigh 65-70 lbs, our Sea Eagle FastTracks™ weigh just 32 & 38 lbs respectively. This makes handling our kayak a dream by comparison. Best of all, because FastTracks™ are inflatable they can be packed into a bag that's a mere fraction of their size!
Sea Eagle FastTracks™ are a breakthrough in design that combines high performance paddling with ultra-light weight and stow-able portability.
Why the FastTrack Kayak Paddles So Well

SIDE
TOP
FRONT
The Shape Says it All
Drop Stitch Outside Keel (U.S. Patent #8,286,573) rides over waves, provides bouyancy, and constrains the yaw of an inflatable kayak.
Removeable Rear Skeg keeps kayak tracking straight and true. Can be removed for whitewater use.
Super rigid drop stitch floor increases overall rigidity, creates side chines under pontoons and enhances overall performance.
High Pressure Drop Stitch Floor
A very important feature is the high pressure drop stitch floor. It provides rock solid rigidity to the whole structure of the kayak making it very responsive to paddle strokes. The drop stitch floor even makes this kayak rigid enough to be used as a Stand-up Paddleboard.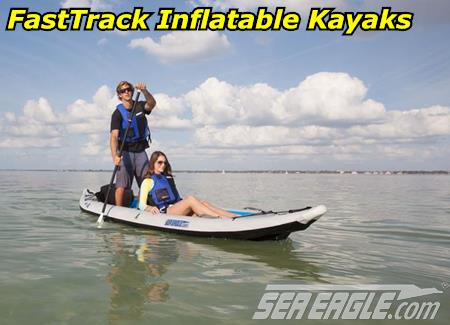 The Sea Eagle 385ft and 465ft kayaks can be paddled for many miles and many hours with little effort. It will go straight in whatever direction you want and it will hold a course no matter at what angle you are paddling in relation to the wind.
This new design is truly a breakthrough in the evolution of inflatable kayaks.
---
 … scroll  down and click on

blue tabs

to open the 12 different Sea Eagle FastTrack 385 and 465 Discount Package choices!
---
BUT FIRST!….
Want FastTrack Prices? Ready to Order? That's next… but first here's some important information you need to know..
Deluxe Option Group or Pro Option Group? Which one do I order?
What's really the difference between the expensive Sea Eagle boats and the lower priced Sea Eagles?
Do you ship to Canada or any other International Location?
How much is shipping?
How abut sales tax?
How do I pay?
Is your site secure?
All this and more are discussed below.  Prices and Discount Option Packages are below and include Free Shipping. There are no sales taxes except shipments to Arizona and South Dakota. Select from the option groups below and click on "ADD TO CART." This will take you to our secure PayPal Shopping Cart. Once on the Shopping Cart page you can continue to shop and add more items, you can also delete items, and you can update quantities. When you are done shopping click on "CHECK OUT." On the Check Out page you can Choose A Way to Pay. Our site is safe and secure and we never send spam or sell your address or personal information to spammers….Read More >>>>
Sea Eagle FastTrack 385 & 465 Kayaks
********************************************************
 SALE on all
FastTracks
…'til end of month
Scroll across the horizontal

blue tabs

immediately below then click to see Prices on our 12 different Discount Package choices. 



NEW!

Rede
signed Slide-In Skeg
included
FREE
with each FastTrack 385 & FastTrack 465.
The improved new "Swept Back" skeg is now standard & allows you to go into shallower
water than the longer skeg from previous years and, at the same time, improves tracking and performance of your kayak or SUP
---
 BTP MANO 2 STAGE PUMP w/ BATTERY $219 (when added to your boat order)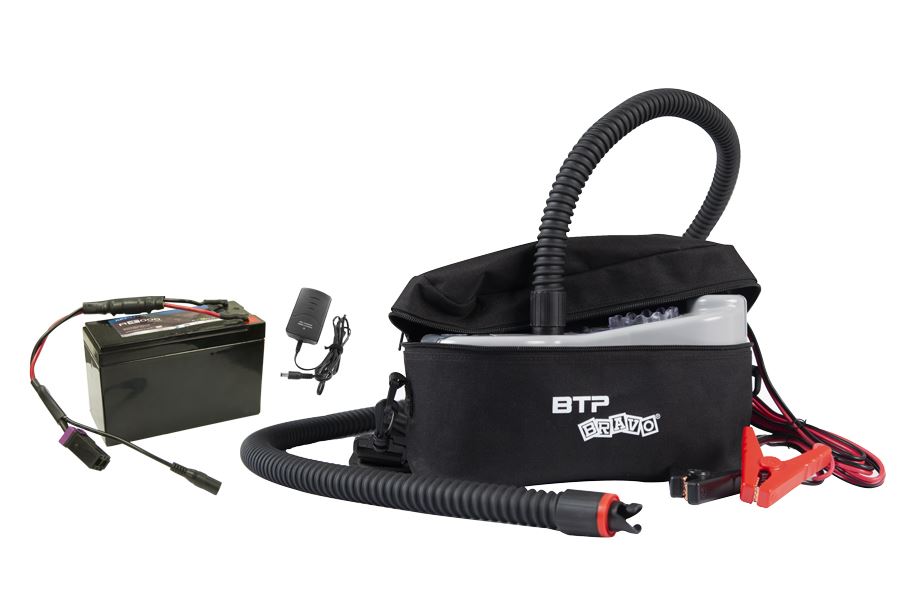 (Stage 1) Low pressure/high volume turbine blower
(Stage 2) High pressure piston for higher PSI
For products with high air volume requirements
Excellent for use with bigger hulls
Stops automatically when selected pressure is reached
Pump Battery and charger included
This ultra-fast pump is made even more convenient with a battery that neatly fits in the included carry bag. This two-stage pump will rapidly inflate with a high capacity turbine blower and then switch to a high pressure piston pump to pressurize the hull from 1 to 14.5 PSI. With a full battery charge, you can easily inflate our largest boat several times over.
Included:
BTP (5.5 lbs.)
102″ (8'6″) cable w/alligator clips
72″ (6′) inflation hose
Common valve adapters
12 volt battery (5.6 lbs)
Battery charger
Total Weight: 11 lbs.
Dimensions: 12″ x 4″ x 6″
Maximum Absorption 20 Amps.
$249
$219 when ordered with kayak or Sup
---
2 Pack of Roomy  Dry Bags..a must have!

2 Pack of Dry-Bags(20L &  10L). We've been looking for a couple of inexpensive Dry Bags that are compact when not in use and big enough and dry enough when they are in use.  These Two Big 10-L and 20L Dry-Ba are made from 100% Waterproof Material and include an extra long shoulder straps. Great for kayaking, fishing, rafting, swimming and their a great gift idea.We think this Dry-Bag 2-Pack is the perfect answer. 
Conveniently separate your vital equipment. A secure and practical way to organize and carry your things.

Store clothing, food and general equipment while kayaking, and other outdoor activities.

DRY BAG MAIN FEATURES: 100% Waterproof and Safe Protection, the dry bag can protect your camera, clothes, wallet, glasses, hat and documents or other valuables from water, sand, dust and dirt.

COMES IN 2 SIZES OF DIFFERENT COLORS: Yellow 10L size dry bag: 15.3 x 7.9 inches ; Blue 20L size dry bag: 17.7 x 9.4 inches.

ADJUSTABLE SHOULD STRAP: All our dry bags have straps – 10L Dry Bag has 1 strap and 20L Dry Bag has 2 straps. It allows you to adjust the length as you need. The strap is easily removable and adjustable.

2 IN 1 PACK: 1 x 10L ( yellow ) dry bag + 1 x 20L ( blue ) dry bag

SIMPLE TO USE: 1. Put your wallet, money, clothes, cell phone and keys etc in the dry bag; 2. Fold the edge opening for 3 – 5 times; 3. Lock the buckle at the top of the bag; 4. Whilst creating a handle.

Was $44.99 now only $39.99



---
Buy the 385ft or 465ft and pick up the $249 Swivel Fishing Seat and Scotty Rod Holders for $237 w/ Kayak (or SUP Purchase)! 
Turn your Sea Eagle iSUP, iK and iPS into a fishing machine! Attaches with ease to existing d-rings in less than 60 seconds flat!
This Swivel Seat Fishing Rig is the perfect accessory for Sea Eagle iSUPs, Explorers™, FastTracks™ and PaddleSki™ Series. (Weighs only 15 lbs.)
Kit includes: aluminum frame base, swivel seat, two Universal Scotty Rod Holders with universal deck mounts and two 6ft quick release cinch down straps.
*One time pre-assembly that takes just a few minutes required. Non compatible with RazorLites™, Sport Kayaks and Travel Canoes™
$237
Recommended For:
Explorer Inflatable Kayaks™
FastTrack™ Inflatable Kayaks
Hybrid Inflatable SUP
LongBoard Inflatable SUPs
NeedleNose™ Inflatable SUPs
PaddleSki™ Inflatable Catamaran Kayak
Was $249.00 now only $237.00
---
Buy the 385ft or 465ft and pick up the $399  Unversal QuikRow Kit for just $367 w/ Kayak (or SUP Purchase)! 
Adjustable fixed rowing frame
Deluxe cushion swivel seat
Four part 7'11" oar set w/ oarlock and oar pins
Adjustable quick attach EZ-lock/quick release cinch down straps
Weighs just 20 lbs.
The Universal QuikRow™ Kit is a simplified fixed frame rower that attaches to kayaks and SUPs in less than 60 seconds flat! Now that's quick! Easy to setup and easy to use – the QuikRow™ will transform an ordinary kayak or SUP into a rowing and fishing machine!

This Universal QuikRow® Kit is the perfect accessory for Sea Eagle iSUPs, Explorers™, FastTracks™ and PaddleSki™ Series. (Weighs only 20 lbs.)
QuikRow kit includes: aluminum frame rowing base, swivel seat, (2) 2 part 7'11" oar set w/ oarlock and oar pin, (2) 4′ quick release cinch down straps, (2) 6′ quick release cinch down straps.
*2 Sea Eagle self-locking straps in 4' or 6' included with kayak and iSUP packages, depending on package requirements.
*One time pre-assembly that takes just a few minutes required. Non compatible with RazorLites™, Sport Kayaks and Travel Canoes™
Was $399
just $367 w/ Kayak (or SUP Purchase)! 
(*The QuikRow™ Footrest (recommended for SUPs and PaddleSki™)
QuikRow Footrest

Lightweight aluminum construction
Five 2″ increment adjustments
17″ Adjustable footrest for the Sea Eagle QuikRow™
$29
$27
---
Buy any Sea Eagle FastTrack Kayak and get the BP12 Single Stage Electric Pump 
Was $99.

Now $89

if purchased with your boat order.
Lightweight and compact
High Pressure Piston Pump
Excellent for smaller size hulls
Stops automatically when selected pressure setting is reached
*12 volt battery not included
The Bravo BP12 is a super efficient lightweight single stage high pressure piston pump that will inflate from 1 to 14.5 psi. Simply attach the alligator clips to any 12V battery's terminals then set the turn dial to your desired pressure setting, press the "on" button and this little workhorse will do the rest.
Included:
102″ (8'6″) cable w/alligator clips
72″ (6′) inflation hose
Common valve adapters
Was $99. Now $89.00 (limit one per boat)
---
 Buy any PaddleSki, FastTrack, or Explorer and get the MotorMount reg $119 for

 $99

Easy installation
Corrosion resistant aluminum and stainless steel components
Lightweight
Holds up to a 55 lb thrust electric


---
How About a Trolling Motor?
To find out what you need to power up your kayaks, and where to get it, visit  "What Size Trolling Motor Will I Need"  for Tim's Tips
---
Compare Specs
| | 385ft FastTrack™ | 465ft FastTrack™ |
| --- | --- | --- |
| Exterior | 12'6″ x 3′ | 15′ x 3′ |
| Weight | 32 lbs. | 38 lbs |
| Capacity | 2 Persons or 635 lbs | 3 Persons or 795 lbs |
| Interior | 11'7″ x 1'6″ | 14'2″ x 1'6″ |
| Tube Diameter | 9.5″ | 9.5″ |
| Deflated | 25″ x 18″ 8″ (63cm x 46cm x 20cm) | 30″ x 19″ x 9″ |
| Chambers | 4, Port, Starboard, Keel and Floor | 4, Port, Starboard, Keel and Floor |
| Material | 1000 Denier Reinforced | 1000 Denier Reinforced |
| Seam | Quadruple Overlap | Quadruple Overlap |
| Air Valves | Recessed One Way | Recessed One Way |
| Inflation time | 7 Minutes | 8 Minutes |
| Whitewater Rating | Suitable up to Class II | Suitable up to Class II |
| Starting Price: | $999 | $1,199 |
---
Brilliant? Or Baloney? Tim and Crystal Test the FastTrack 385

---
Click to view Sea Eagle President Cecil Hoge talking about the FastTrack
---
Car-Topping Inflated Sea Eagle Kayaks and Boats. Whenever possible we transport our inflated Sea Eagle boats and kayaks to the launch point. Read how we do it.
---
Kudos
"Good morning Crystal and Tim,

Thank you so much for your attention to the purchase of my new FastTrack.
All your videos and other advice is very much appreciated. I'm not sure if anyone else would have been as easy and as informative as you have been.

 I've been looking for a kayak for years and finally decided to look at inflatables
due to weight and transportation needs. I'm getting to old to carry 60 pounds of kayak to and from the launch site, let alone put it on top of my SUV.

 Your excellent advice and info made it a no brainer for the FastTrack.

 Thanks again and have a great weekend."

 Jay Shepherd
---
Different Strokes
The Sea Eagle FastTrack is a remarkable kayak with lots of different accessory options providing our FastTrack customers an accessory for every conceivable use. Or so we thought.  Here's some customer FastTrack modifications from the fertile minds of our creative customers.
The first customer mod is called the "Mary Poppins" modification and is self-explanatory.
---
The second customer mod is Gerald's Magnificent
Fly-Fishing FastTrack 385.
Gerald's Tips, Kudos, and Caveat….
"Tim and Crystal,
Thanks again for your follow up.
I have demonstrated my 385 Fast Track and outriggers/trolling motor to a dozen other fishermen and others that owned canoes and Jon boats.  I think Sea Eagle has a winner with this boat
caveat:
– paddles better with skeg
-raised fishing seat needs foam platform
-drop stitched floor needs to be at 9 psi or more
-with electric motor, stable with the outriggers/pontoons
Love the carrying capacity of this 12 ft. boat!
 Gerald"
---
 Customer mod #3 is Andrew's Amazing Fishing and Sailing FastTrack 385 which is a combination 0f the two mods pictured above.
Hi Tim..
I took some photos near Crystal River Fl. This is how I rigged my boat for fishing. I love the new oversize fishing seat. The umbrella provides shade and acts as a sail. The white line is an anchor trolley.
Andrew 
…and now a customer review
Eric paddling his FastTrack in Deer Isle, Maine
Hi Tim, Crystal, We just got back from Deer Isle, Maine and, as promised, here are a few pictures of the 385FT in action. We mostly did tandem but had no one to shoot the two of us. But my wife Mary got some nice ones of me flying solo and those I've attached. (Sidenote: although both seats are shown in the photos, I've got the front seat in the proper position (middle) for single paddler.) Kayak peformance was outstanding! She inflated and deflated in less than five minutes. Stability was real nice. Getting in and out was done quickly and fearlessly.  I ran into some really choppy conditions (two footers for this part of the world) a mile or so out on my first day out, and I was amazed and really pleased by how well she handled the waves no matter which direction/angle I approached them. I actually enjoyed plummetting into the troughs not to mention smashing perpendicular through them! The latter enjoyment's got something to do with that "cool ocean spray splashing over the bow and into one's face". Tracking was better than expected with yaw almost non-existent. We found that very important in maintaining speed and when we wanted to kick her into a higher gear, so to speak. The seats were nice and comfortable. Thanks for the "do not totally inflate" tip for the seats. Definitely a rule to follow for comfort. The last day on the water as we were returning from our final excursion, some dude and his wife yelled to us from the beach and asked if what we were in was "one of them there inflatable boats". After giving that an "affirmative", I proceeded to channel you (!) and give the couple a good five-minute sales pitch. Told them about all of the above and then added another important piece of the puzzle: the portability factor and how light the 385 was. They had an 85-pound tandem and were looking to go our route with the inflatable. Don't be surprised if you get an e-mail from somebody from Maine! Okay, I must've drunk too much java before this post because I'm yakking away here. So let me stop, but lastly let me just add: Thank you Tim and Crystal. Thank you for this kayak and thank you for the top notch customer service! Enjoy the pictures of the 385FT in action against the backdrop of some beautiful Maine scenery as well as whoever that handsome stud is who's riding it! Eric Trinkle
---
---