InflatableBoats4Less.com SINCE 1998
2017 PackFish7™
The Sea Eagle PackFish7™ is a unique, ultralight, incredibly portable, one man fishing boat that can be used two ways: (1) fished for hours while sitting on the comfortable inflatable Deluxe Fishing Seat, (2) standing with the wooden floorboard which provides stable and ample standing area for both sight fishing and casting.
The hull weighs only 21 lbs. and fully loaded with optional  floorboard (the only option available), oars and seat a mere 32 lbs. It goes anywhere, sets up in under 5 minutes and can even be worn on your back! It's as simple as that! We call it the "grab and go fishing boat!"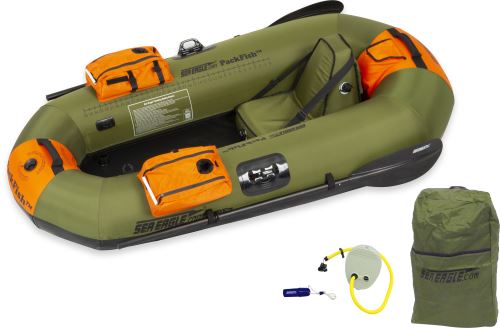 How Much Tim?
Shipping: (FREE if you order by month end)
Package Prices:

All Sea Eagle boats come in a variety of discount option group packages. The New 2017 PaxkFish7 has only one option…the hardwood floor! All the nifty orange storage bags.  plus the comfy seat, are standard.
We can't list our below factory secret prices here so click on'Add To Cart' to see your
PackFis 7 Deluxe and Pro prices.
 Why don't we show the price?)

Deluxe (no floorboard)      $39

Pro ( w/ StandUp Floorboard  $439

Deluxe Package Includes
2017PackFishHull
DKS Seat Green
A42 Foot pump
AB254 Oar Sett
Small Repair Kit
Pro Package Includes all the Deluxe Options plus Optional Floorboard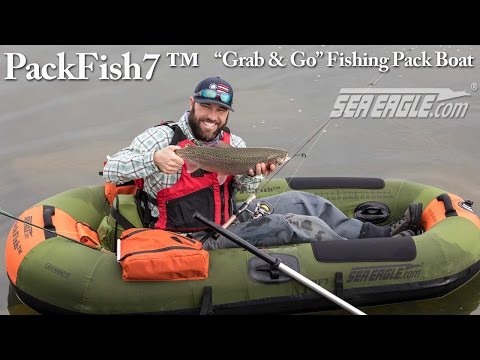 Specifications
| | |
| --- | --- |
| Exterior | 7′ x 3'3″ |
| Interior | 4'6″ x 13″ |
| Hull Weight | 21 lbs. (hull only), 26 lbs. (w/ floorboard) |
| Load Capacity | 1 person or 225 lbs. |
| Total Max Load Capacity | 300 lbs. with gear |
| Deflated | 5″ x 20″ x 20″ |
| Floorboard | 1/2″ thick x 3'6″ long x 15 3/4″ wide |
| Chambers | 2 (main & additional upper safety chamber) |
| Tube Diameter | 13″ |
| Bladder | 30 mil Polykrylar 2 chamber internal bladder |
| External Protective Cover | 840 Denier Nylon |
| External Protective Floor | 1000 Denier PVC coated Polyester |
| External Protective Cover Seams | Overlapped Double Stitched Industrial Strength Nylon Thread |
| Air Valves | 2 Deluxe One Way |
| Inflation & Assembly time | Less than 5 mins |
| Seam | Bladder: High-Frequency Welded, Cover: Double Stitched Industrial Strength Nylon Thread |
| Material | 30 mil Polykrylar, 840 Denier Nylon, 1000 Denier PVC coated Polyester |
| Engine Capacity | N/A |
| Floor | External Protective Floor: 1000 Denier PVC coated Polyester, Optional: Removable wooden floorboard |
| Inflation Pressure | 1.2 psi |
---