InflatableBoats4Less.com SINCE 1998
FALL SALE ON ALREADY DEEPLY
DISCOUNTED SEA EAGLES!
Sea Eagle TC16 Travel Canoe! 

AS LOW AS $1799



Sea Eagle RazorLite 393rL!    

AS LOW AS $699



Sea Eagle 385!                              

AS LOW AS $769

385fta fishing FastTrack!        

AS LOW AS $949



465 FastTracks!                          

AS LOW AS $1049



Also included is the exciting new Fish Sup 126!      

AS LOW AS $699



Sea Eagle SE9 Fishing Boats!

JUST $399



QUESTIONS?  CAL/TEXT  THE MOM & POP
HOTLINE

  928-713-7597
 2017  KAYAK SALE on all Sea Eagle PaddleSki KAYAKS…'til end of month!
**************************************************
"Our safest, driest, and most stable kayak as well as our easiest to enter and exit due to the sit-on-top catamaran design.

It's our favorite".

Tim & Crystal
About the 435ps Paddleski™
The Sea Eagle PaddleSki™ Catamaran Kayak is the most versatile kayak in the world! This unique inflatable catamaran kayak is really 4 hulls in . You can choose to paddle, motor, sail and fish with this incredible inflatable craft. Best of all it still packs down to a mere fraction of it's inflatable size so storage and transportation are a dream.
STABILITY AND SPEED
With ordinary kayaks you have to choose between a stable, wide craft and a speedy, tippy narrow craft. That's not so with the PaddleSki™. The catamaran/kayak features two widely spaced inflatable tubes that cut right through the water but give you a solid, well balanced boa The Sea Eagle PaddleSki gives you two benefits you won't normally find in a kayak – Stability and Speed. Because of the wide hull, the PaddleSki is remarkably stable and comfortable. Because of the catamaran design, the PaddleSki cuts through the water with minimal resistance.
The  Swiss Army knife of Kayaks! Paddle…Sail…Motor…Fish
Stability AND Speed! With ordinary kayaks you have to choose between a stable, wide craft and a speedy, tippy narrow craft. That's not so with the PaddleSki. The catamaran/kayak features two widely spaced inflatable tubes that cut right through the water but give you a solid, well balanced boat.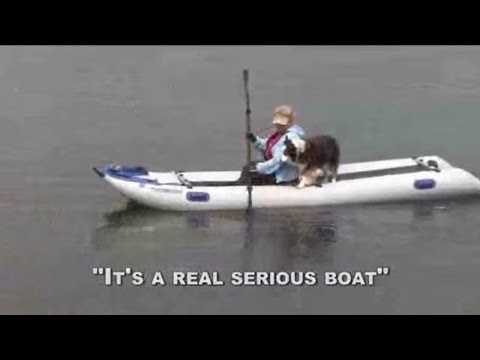 Motoring and Fishing
Using either an electric or gasoline outboard, the PadddleSki is cable of surprising speed due to the sleek, catamaran/kayak design. With our Side Motor Mount, an electric motor up to 55 lbs. thrust can power a PaddleSki to that ideal fishing spot nobody else can reach! Just $119 (read our Blog Entry "What Size Trolling Motor Will I Need?"}

Paddling
The PaddleSki is great for paddling trips at the spur of the moment – or week-long camping trips in the bush. The catamaran design keeps the hull out of the water for low drag and high boat speed. It will pack in a car trunk, so you can avoid spending hundreds on a roof rack or thousands on a trailer.

Fishing
You won't catch any fish if you can't get to where the fish are! And that's not always easy with a big heavy trailer boat.
With our PaddleSki Fishing Seat , your PaddleSki becomes a true fishing boat. With two built-in Rod Holders, and a Swivel Seat, you'll be reeling in the big fish in no time! Just $249 when ordered and shipped with your boat order.

The NEW Improved Sea Eagle PaddleSki 435 is Now 15 lbs. Lighter, Provides Better Access to Space and Packs Up Smaller. The Newly redesigned Sea Eagle PaddleSki 435ps Catamaran Inflatable Kayak now features a newer cleaner, more open design that reduces weight, provides cargo tie- down bow storage,

 provides better access to space and allows it to pack up in a smaller package. This is because Sea Eagle replaced heavier parts with lighter weight parts. This dramatically reduces the weight of the Sea Eagle PaddleSki without compromising the strength or durability of this great kayak. The Sea Eagle 435ps is a true open water kayak…on lakes, rivers, ponds, seas, and oceans! The Sea Eagle PaddleSki 435ps comes in a nylon carry bag for easy transport and takes just minutes to inflate and assemble. It can take a multitude of accessories for paddling, rowing, sailing, fishing or motoring! The Sea Eagle PaddleSki's can be used in mild whitewater (class 1 & 2) but they are not recommended for moderate of heavy white water. It is no exaggeration to say that these are the most versatile kayak ever designed!

---
Ready to Order? Here's some important information you need to know before you order.
Deluxe Option Group or Pro Option Group? Which one to order. What's really the difference between the expensive Sea Eagle boats and the lower priced Sea Eagles? All this and More are discussed below. 
Prices and Discount Option Packages are below and include Free Shipping. There are no sales taxes except shipments to Arizona and South Dakota. Select from the option groups below and click on "ADD TO CART." This will take you to our secure PayPal Shopping Cart. Once on the Shopping Cart page you can continue to shop and add more items, you can also delete items, and you can update quantities. When you are done shopping click on "CHECK OUT." On the Check Out page you can Choose A Way to Pay. Our site is safe and secure and we never send spam or sell your address or personal information to spammers…….Read More >>>>
 All PaddleSki orders include a Free EZCart!
Scroll across the horizontal white lettered BLUE TABS

immediately below then click to see Prices on our  different Discount Package choices.  
---
2 Pack of Roomy  Dry Bags..a must have!

2 Pack of Dry-Bags(20L &  10L). We've been looking for a couple of inexpensive Dry Bags that are compact when not in use and big enough and dry enough when they are in use.  These Two Big 10-L and 20L Dry-Ba are made from 100% Waterproof Material and include an extra long shoulder straps. Great for kayaking, fishing, rafting, swimming and their a great gift idea.We think this Dry-Bag 2-Pack is the perfect answer. 
Conveniently separate your vital equipment. A secure and practical way to organize and carry your things.

Store clothing, food and general equipment while kayaking, and other outdoor activities.

DRY BAG MAIN FEATURES: 100% Waterproof and Safe Protection, the dry bag can protect your camera, clothes, wallet, glasses, hat and documents or other valuables from water, sand, dust and dirt.

COMES IN 2 SIZES OF DIFFERENT COLORS: Yellow 10L size dry bag: 15.3 x 7.9 inches ; Blue 20L size dry bag: 17.7 x 9.4 inches.

ADJUSTABLE SHOULD STRAP: All our dry bags have straps – 10L Dry Bag has 1 strap and 20L Dry Bag has 2 straps. It allows you to adjust the length as you need. The strap is easily removable and adjustable.

2 IN 1 PACK: 1 x 10L ( yellow ) dry bag + 1 x 20L ( blue ) dry bag

SIMPLE TO USE: 1. Put your wallet, money, clothes, cell phone and keys etc in the dry bag; 2. Fold the edge opening for 3 – 5 times; 3. Lock the buckle at the top of the bag; 4. Whilst creating a handle.

Was $44.99 now only $39.99



Special Introductory Offer:
Buy any Sea Eagle PaddleSki and get the BP12 Single Stage Electric Pump  Was $99. Now $89 if purchased with your boat order.
Lightweight and compact
High Pressure Piston Pump
Excellent for smaller size hulls
Stops automatically when selected pressure setting is reached
*12 volt battery not included
The Bravo BP12 is a super efficient lightweight single stage high pressure piston pump that will inflate from 1 to 14.5 psi. Simply attach the alligator clips to any 12V battery's terminals then set the turn dial to your desired pressure setting, press the "on" button and this little workhorse will do the rest.
Included:
102″ (8'6″) cable w/alligator clips
72″ (6′) inflation hose
Common valve adapters
Was $99. Now $89.00 (limit one per boat)
---
Buy any PaddleSki, FastTrack, or Explorer and get the Side MotorMount reg $119 for $99  when shipped with your boat order.

Easy installation
Corrosion resistant aluminum and stainless steel components
Lightweight
Holds up to a 55 lb thrust electric
---
Here's a great testimonial from Lee and Terie!
Hi Tim, "I don't have a question. I just have a few comments. We researched for two years. We knew we wanted an inflatable paddling boat, we knew what we wanted to be able to do with whatever boat we got, and we knew we wanted to order from InflatableBoats4Less. That was the extent of our knowledge. Before ordering, I e-mailed you with a list of our abilities, wants, expectations, and thoughts, and you recommended the PaddleSki 435. We bought it back in February and I wanted to give you an update. I can't thank you enough for that recommendation! Due to the uncooperative weather, we weren't able to try our new PaddleSki out until Memorial Day weekend, and even though it was a bit windy, we took it out on Lake Easton for a short paddle. It wasn't much of a maiden voyage, because the weather was still being obstinate, but even that short trip gave us a decent sense of the stability of the boat and how easily it slid across the water. We are complete novices in the paddling world, so really didn't know what to expect. We were pleasantly surprised with how comfortable and secure we felt on the boat. Our next opportunity didn't come about until mid-July, when we took it out on Lake Kachess. We put it through some pretty rigorous balance tests (stood up on it, walked on it, sat on the side, leaned out as far as we could from our seats, etc.) and determined it would probably take a tsunami to tip it over. We were also very impressed with its speed and ease of paddling. I am not in real great shape, but I was able to paddle clear across the lake (I have no idea how far it was in yards or miles, but it was a LONG way) and I was barely breathing hard. We and our children and grandchildren had loads of fun all weekend, taking that little boat out and paddling all around that lake. The latest excursion and final test was a paddle (float) down the Yakima River (Class 1+) through the Yakima River Canyon. What a great boat! Set-up was a breeze, even with just the foot pump. It took only 15-20 minutes from the time we unloaded it to hitting the water. We were so impressed with its quick response and maneuverability and with how well it tracked. We had plenty of room for the two of us, our stow bag full of stuff and our cooler full of water and snacks. There was still room for a grandkid or two (if we wanted to disturb the peace and quiet). Not knowing what to expect as far as time, we picked our put-in and take-out spots about eight miles apart. We were very disappointed when our trip was over in a little less than 2 hours. We could have stayed on that river all day. What a blast! Take out went fairly well, although we still haven't mastered the "roll-up and put-away" yet. We just need more practice, that's all. J We will be going full-time RVing in a couple of years, and we believe this boat is going to be perfect for us. We may purchase an EZCart in the future and possibly an electric pump. We will absolutely be purchasing a motor mount and motor eventually, in order to take advantage of this boat's versatility and explore some of the farther reaches of the lakes, bays, etc. that we plan to visit. Until then, we look forward to enjoying it, frequently, on our local lakes and rivers. Thank you again, Tim, for steering us in the right direction and advising us to purchase the PaddleSki. We couldn't be happier." Sincerely, Lee & Terie
Here is our testimony.
Long before we were Sea Eagle dealers we were PaddleSki owners and continue to be the Sea Eagle PaddleSki' s biggest fan! Here's our story. We are constantly getting question's asking for advice about which kayak to buy. All questions are much the same with the only difference being the  heights, weights, and names of the paddlers and the name of the lake, river, or ocean they intend to paddle. Most are beginning kayak'ers. Our answer is always the same. Has been for the last 15 years! Our very best kayak and your best choice is the Sea Eagle PaddleSki 435 Deluxe. But before I go on, let me go back almost 15 years. In 1998 I was a recent heart bypass patient at just 55 years of age and I was looking for a kayak to use for stress relief and exercise. My friends always came to me for advice because of my reputation for always over-researching everything and so the search for the very best kayak for 'hard to please Tim' and 'inexperienced & doesn't like the water Crystal', was right up my alley. Finding the perfect kayak should be a piece of cake, or so I thought. Searching and researching the perfect kayak consumed me for over a year. Eventually I settled on Sea Eagle as the source and the Sea Eagle PaddleSki as the kayak. When it arrived I was amazed at the quality…I was expecting a pool toy and instead I found a tough as a boot kayak. A kayak that came in a sleeping bag sized carry bag that inflated into shape in just a few minutes. As an experienced paddler I was hard to please but the PaddleSki pleased me in every way. It was fast and stable and better than any hard kayak I had ever paddled. Best of all the remarkable stability allowed my "scared of the water non athletic" wife to learn to love kayaking and be a part of my paddling hobby for the first time! Within the next three years I was to become a Sea Eagle Dealer and over the following fifteen years we were to become Sea Eagle's largest dealer. All because of that PaddleSki. In all the intervening years with all of new kayak products coming to market my faith in Sea Eagle has never wavered and my kayak of choice still remains the PaddleSki. Tim and Crystal owners.. Inflatable Boats 4 Less