InflatableBoats4Less.com SINCE 1998
The Sea Eagle 435 PaddleSki
"Our safest, driest, and most stable kayak as well as our easiest to enter and exit due to the sit-on-top catamaran design. It's our favorite". Tim & Crystal

The  Swiss Army knife of Kayaks! Paddle…Sail…Row…Motor…Fish
Stability AND Speed! With ordinary kayaks you have to choose between a stable, wide craft and a speedy, tippy narrow craft. That's not so with the PaddleSki. The catamaran/kayak features two widely spaced inflatable tubes that cut right through the water but give you a solid, well balanced boat.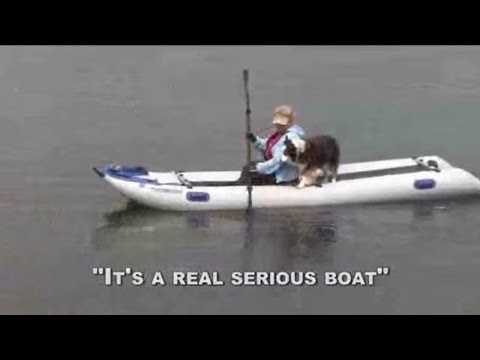 The NEW Improved Sea Eagle PaddleSki 435 is Now 15 lbs. Lighter, Provides Better Access to Space and Packs Up Smaller. The Newly redesigned Sea Eagle PaddleSki 435ps Catamaran Inflatable Kayak now features a newer cleaner, more open design that reduces weight, provides cargo tie- down bow storage,

 provides better access to space and allows it to pack up in a smaller package. This is because Sea Eagle replaced heavier parts with lighter weight parts. This dramatically reduces the weight of the Sea Eagle PaddleSki without compromising the strength or durability of this great kayak. The Sea Eagle 435ps is a true open water kayak…on lakes, rivers, ponds, seas, and oceans! The Sea Eagle PaddleSki 435ps comes in a nylon carry bag for easy transport and takes just minutes to inflate and assemble. It can take a multitude of accessories for paddling, rowing, sailing, fishing or motoring! The Sea Eagle PaddleSki's can be used in mild whitewater (class 1 & 2) but they are not recommended for moderate of heavy white water. It is no exaggeration to say that these are the most versatile kayak ever designed!
Ready to Order? Here's some important information you need to know before you order.
Deluxe Option Group or Pro Option Group? Which one to order. What's really the difference between the expensive Sea Eagle boats and the lower priced Sea Eagles? All this and More are discussed below. 
Prices and Discount Option Packages are below and include Free Shipping. There are no sales taxes except shipments to Arizona and South Dakota. Select from the option groups below and click on "ADD TO CART." This will take you to our secure PayPal Shopping Cart. Once on the Shopping Cart page you can continue to shop and add more items, you can also delete items, and you can update quantities. When you are done shopping click on "CHECK OUT." On the Check Out page you can Choose A Way to Pay. Our site is safe and secure and we never send spam or sell your address or personal information to spammers…….Read More >>>>
 All PaddleSki orders include a Free EZCart!
Scroll across the horizontal tabs immediately below and click to see Prices and Discount Package options.
Standard Features:

NMMA Certified
Two skegs for directional stability
6 D-Rings to secure seats for one or two person use
Three aluminum yokes for a rigid structure
Two rear carry handles & bow handle
Wide beam hull design for stability
Repair kit & printed instructions

Specifications:

| | |
| --- | --- |
| Exterior: | 14′ x 3′ 3″ |
| Weight: | 41 lbs. |
| Capacity: | 2 Adults or 650 lbs. |
| Engine Capacity: | 55 lb. thrust electric |
| Interior: | 12′ 6″ x 1′ 4″ |
| Tube Diameter: | 14″ |
| Deflated: | 38″ x 19″ x 10″ |
| Chambers: | 2 (port & starboard) |
| Material: | 1000 Denier Reinforced |
| Seam: | Quadruple Overlap |
| Floor: | 1000 Denier Reinforced Material |
| Air Valves: | Recessed One Way |
| Inflation time: | 7 min. |

 

435ps Deluxe Package w/ Free EZ Cart

All you need to have a great day paddling

A $1,453 value for $1,199

 

click Add to Cart to see price without the EZ Cart..

435ps Pro Kayak Package w/ EZ Cart


Click here to enlarge 

For greater back support, our Pro Kayak package features two Tall Back Seats, and bow storage bags for longer trips. High-performance AB40 Paddles increase power and reduce fatigue.

w/ Free EZ Cart $1299

click Add to Cart to see price without the EZ Cart..

435ps Fishing Package w/ EZ Cart

Perfect package for the fisherman. A $1,669 value for $1,399

click Add to Cart to see price without the EZ Cart..

---

INCLUDES FREE $139  EZ Cart (small)

Package Contains
Item
Value
435ps
$999.00
Fishing Seat Kit-Paddleski
$229.00
Motormount-PaddleSki
$119.00
7'10″ AB30 paddle
$59.00
Boat Carry Bag
$55.00
Deluxe Kayak Seat
$49.00
A41 Foot Pump
$39.00
Repair Kit
$15.00
Normal Shipping Charge (FREE with package)
$105.00
Total Value:
$1,669.00

Sale Price w/ Free EZ Cart

$1,399.00

   

435ps Paddling/Rowing Package w/ EZ Cart

The perfect package for a great workout. All you need for a great day of paddling and rowing. A $1,729 value for $1,399

click Add to Cart to see price without the EZ Cart..

---

INCLUDES FREE $139  EZ Cart (small)

Package Contains
Item
Value
435ps
$999.00
Rowing Frame Sliding Seat Comb
$399.00
Boat Carry Bag
$55.00
Deluxe Kayak Seat
$49.00
A41 Foot Pump
$39.00
2-part Paddle
$39.00
Extention handle set
$29.00
Repair Kit
$15.00
Normal Shipping Charge (FREE with package)
$105.00
Total Value:
$1,729.00

Sale Price w/ Free EZ Cart

$1,399.00

435ps Pro Carbon Package

Our Pro Carbon Kayak package features everything in the Pro Package plus a set of upgraded top end Carbon-Fiber Paddles. A $1,730 value for $1,399

click Add to Cart to see price without the EZ Cart..

---

INCLUDES FREE $139  EZ Cart (small)

Package Contains
Item
Value
435ps
$999.00
Two AB50 Paddles
$298.00
Two Tall Back Seats
$190.00
Boat Carry Bag
$55.00
A41 Foot Pump
$39.00
large stow bag
$29.00
Repair Kit
$15.00
Normal Shipping Charge (FREE with package)
$105.00
Total Value:
$1,730.00

Sale Price w/ Free EZ Cart

$1,399.00

Your Savings:
$331.00

435ps "Captain Tim" MotorMount & EZ Cart Package

 Prospects are always asking "So Tim, which kayak do you and Crystal personally have and with which accessories?" Our answer? We have a PaddleSki 435 Deluxe with a PaddleSki side motor mount and an EZ Cart. * So if you want to be like Captain Tim and Crystal we have a special package for you! * (We also have a battery box, type 24 RV/Marine Battery, a Battery Charger, and a MinnKota 30 # thrust 12V Motor all of which we bought at Wal-Mart for around $200 total. These items are not included in the Captain Tim Special)

The 435ps Deluxe Package plus an EZ Cart.and a PS Side Motor Mount.

Was $1611.00 Now $1229.00

Package Contains
Item
Value
435ps PaddleSki boat
$999.00
Two 8′ AB30 Paddles
$118.00
Two Deluxe Kayaks Seats.
$98.00
EZ Cart (small)
$139.00
PaddleSki Side Motormount (motor not included)
$119.00
Foot Pump
$39.00
 
 

Captain Tim Sale Price

$1229 

Normal Shipping Charge (FREE with package)
$99.00
Total Value:
$1,611.00

Captain Tim and Crystal on their PaddleSki. 

One A-41 Large Bellows Foot Pump $37.99

One AB30 7'10″ 4-Piece Paddle – Was $59. Now $56.99

Extra seat for any of our kayaks, the SEC has some back support and makes a great child seat. Was $24. Now $20

Our best Pro Deluxe Kayak Seat. Was $49. Now $47.99
Special Introductory Offer: Buy the PaddleSki 435 and get the Electric Turbo Pump with Battery
Was $249. Now $199 if purchased with your boat order. This ultra-fast pump is made even more convenient with a battery that neatly fits in the included carry bag. With a full battery charge, you can easily inflate our largest boat several times over. With this convenient package, you can carry your boat close to the water and inflate it within easy reach of the water. Was $249. Now $199.00 (limit one per boat) 
---
Here's a great testimonial from Lee and Terie!
Hi Tim, "I don't have a question. I just have a few comments. We researched for two years. We knew we wanted an inflatable paddling boat, we knew what we wanted to be able to do with whatever boat we got, and we knew we wanted to order from InflatableBoats4Less. That was the extent of our knowledge. Before ordering, I e-mailed you with a list of our abilities, wants, expectations, and thoughts, and you recommended the PaddleSki 435. We bought it back in February and I wanted to give you an update. I can't thank you enough for that recommendation! Due to the uncooperative weather, we weren't able to try our new PaddleSki out until Memorial Day weekend, and even though it was a bit windy, we took it out on Lake Easton for a short paddle. It wasn't much of a maiden voyage, because the weather was still being obstinate, but even that short trip gave us a decent sense of the stability of the boat and how easily it slid across the water. We are complete novices in the paddling world, so really didn't know what to expect. We were pleasantly surprised with how comfortable and secure we felt on the boat. Our next opportunity didn't come about until mid-July, when we took it out on Lake Kachess. We put it through some pretty rigorous balance tests (stood up on it, walked on it, sat on the side, leaned out as far as we could from our seats, etc.) and determined it would probably take a tsunami to tip it over. We were also very impressed with its speed and ease of paddling. I am not in real great shape, but I was able to paddle clear across the lake (I have no idea how far it was in yards or miles, but it was a LONG way) and I was barely breathing hard. We and our children and grandchildren had loads of fun all weekend, taking that little boat out and paddling all around that lake. The latest excursion and final test was a paddle (float) down the Yakima River (Class 1+) through the Yakima River Canyon. What a great boat! Set-up was a breeze, even with just the foot pump. It took only 15-20 minutes from the time we unloaded it to hitting the water. We were so impressed with its quick response and maneuverability and with how well it tracked. We had plenty of room for the two of us, our stow bag full of stuff and our cooler full of water and snacks. There was still room for a grandkid or two (if we wanted to disturb the peace and quiet). Not knowing what to expect as far as time, we picked our put-in and take-out spots about eight miles apart. We were very disappointed when our trip was over in a little less than 2 hours. We could have stayed on that river all day. What a blast! Take out went fairly well, although we still haven't mastered the "roll-up and put-away" yet. We just need more practice, that's all. J We will be going full-time RVing in a couple of years, and we believe this boat is going to be perfect for us. We may purchase an EZCart in the future and possibly an electric pump. We will absolutely be purchasing a motor mount and motor eventually, in order to take advantage of this boat's versatility and explore some of the farther reaches of the lakes, bays, etc. that we plan to visit. Until then, we look forward to enjoying it, frequently, on our local lakes and rivers. Thank you again, Tim, for steering us in the right direction and advising us to purchase the PaddleSki. We couldn't be happier." Sincerely, Lee & Terie
Here is our testimony.
Long before we were Sea Eagle dealers we were PaddleSki owners and continue to be the Sea Eagle PaddleSki' s biggest fan! Here's our story. We are constantly getting question's asking for advice about which kayak to buy. All questions are much the same with the only difference being the  heights, weights, and names of the paddlers and the name of the lake, river, or ocean they intend to paddle. Most are beginning kayak'ers. Our answer is always the same. Has been for the last 15 years! Our very best kayak and your best choice is the Sea Eagle PaddleSki 435 Deluxe. But before I go on, let me go back almost 15 years. In 1998 I was a recent heart bypass patient at just 55 years of age and I was looking for a kayak to use for stress relief and exercise. My friends always came to me for advice because of my reputation for always over-researching everything and so the search for the very best kayak for 'hard to please Tim' and 'inexperienced & doesn't like the water Crystal', was right up my alley. Finding the perfect kayak should be a piece of cake, or so I thought. Searching and researching the perfect kayak consumed me for over a year. Eventually I settled on Sea Eagle as the source and the Sea Eagle PaddleSki as the kayak. When it arrived I was amazed at the quality….I was expecting a pool toy and instead I found a tough as a boot kayak the I whipped into shape in just a few minutes. As an experienced paddler I was hard to please but the PaddleSki pleased me in every way. It was fast and stable and better than any hard kayak I had ever paddled. Best of all the remarkable stability allowed my "scared of the water non athletic" wife to learn to love kayaking and be a part of my paddling hobby for the first time! Within the next three years I was to become a Sea Eagle Dealer and over the following ten years we were to become Sea Eagle's largest dealer. All because of that PaddleSki. In all the intervening years with all of new kayak products coming to market my faith in Sea Eagle has never wavered and my kayak of choice still remains the PaddleSki. Tim and Crystal owners.. Inflatable Boats 4 Less
---
The Sea Eagle PaddleSki Catamaran/Kayak is Five Boats in One!
Paddling
The PaddleSki is great for paddling trips at the spur of the moment – or weeklong camping trips in the bush. The catamaran design keeps the hull out of the water for low drag and high boat speed. Because both models will pack in a car trunk, you can avoid spending hundreds on a roof rack or thousands on a trailer. And you don't have to sacrifice half your garage for winter storage.
Motoring
Using either an electric or gasoline outboard, the PadddleSki is cable of surprising speed due to the sleek, catamaran/kayak design. With our Side Motor Mount, an electric motor up to 55 lbs. thrust can power a PaddleSki to that ideal fishing spot nobody else can reach! Just $99
Rowing
Much faster than paddling, rowing is also a much better workout. Our Rowing Frame & Sliding Seat (just $399) fits both model PaddleSkis. The Sliding Seat, which gives you still more power by putting your leg muscles to work!
Sailing
There's nothing like effortlessly gliding across the water with only the wind pushing. Our Sail Rig is easy to use – even for new sailors. And having a Sail Rig doesn't mean you can only sail your PaddleSki. It assembles in minutes, so you can go for a morning row and an afternoon sail when the winds pick up. Just $699
Fishing
It's a fact that you won't catch any fish if you can't get to where the fish are. And with today's crowded waterways, that's not always easy with a big heavy trailer boat.With our PaddleSki Fishing Seat , you can rig up a PaddleSki to be true fishing boat. With two built-in Rod Holders, and the same Swivel Seat used in our FoldCat series, you'll be reeling in the big fish in no time. Just $229