SINCE 1998
Sea Eagle's largest dealer offering
big package savings, money saving
advice, helpful reviews, and low low
prices…
InflatableBoats4Less…17 years of
low prices and "over the top"
award winning customer service.
We thank you… Tim & Crystal
TAKE ANOTHER $100 OFF OUR ALREADY
DEEPLY DISCOUNTED SEA EAGLES!

Sea Eagle RazorLite 393rL!    AS LOW AS $699




                                                   *Add to Cart For Our Lowest Price

         393rl RazorLite™ Pro Package:

a $1,502 value for

just *$899 

         393rl RazorLite™ Pro Carbon Package:   A $1,556 Value for  just *$999

Sea Eagle 385!                         

      AS LOW AS $769

385fta fishing FastTrack!        

AS LOW AS $949



465 FastTracks!                         

  AS LOW AS $1049



Sea Eagle TC16 Travel Canoe!  AS LOW AS $1799
Also included is the exciting new Fish Sup 126!      

AS LOW AS $699



Take Another $50 of the Sea Eagle SE9 Fishing Boats!

JUST $399
CAL/TEXT

928-713-7597

FOR OUR ROCK BOTTOM

FALL KICKOFF SALE PRICE

S ON THE SEA EAGLE MODELS ABOVE,
**************************************************
393rl RazorLite™ Drop Stitch Kayak
The World's First and Only Kayak Made Entirely Of Drop Stitch Material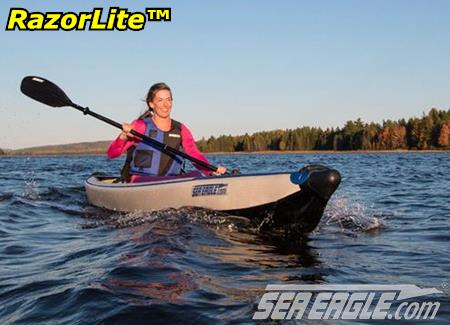 ---
---
393rl RazorLite™ Drop Stitch Kayak
The world's first all Drop Stitch inflatable kayak! A lighter, narrower and faster to paddle, high performance solo kayak for the adventurer. With a tapered, hard-nose bow and stern, and fully constructed with Drop Stitch technology, the 393RL cuts through waves cleaner, straighter and sharper than any other kayak on the market allowing paddling speeds up to 6 mph.
Standard Features
NMMA Certified
Fully Constructed with Drop Stitch Technology
2 Self-bailing Drain Valves
Small Removable Rear Skeg
Front & Rear Spray Skirts with Carry Handles
6 D-Rings to Secure Seat and FootRest
3 One-Way Air Valves
Printed Instructions
Specifications
| | |
| --- | --- |
| Exterior: | 12'10" x 2'2″ |
| Weight: | 33.5 lbs. |
| Capacity: | 1 Person (250 lbs.) + Gear (250 lbs.) = 500 max total lbs. |
| Interior: | 11'7″ x 19″ |
| Tube Dimensions: | 8.5″ High x 4″ Thick |
| Deflated: | 22″ x 22″ x 12″ |
| Chambers: | 3, Port, Starboard, and Floor |
| Material: | 1000 Denier Reinforced |
| Seam: | Quadruple Overlap |
| Air Valves: | Recessed One Way |
| Inflation time: | 7 Minutes |
---
Want One……?
393rl RazorLite™ Pro or Pro Carbon Packages

The incredible combination of performance, comfort and portability is what this Pro Package Offers! Includes: High Performance Design 393RL Kayak with removable rear skeg, AB40 four part performance paddle (Paddle  Upgraded to Pro Carbon Paddle in Pro Carbon Package), Tall Back Seat with wrap around sides and contoured seat pad for long term comfort, adjustable foot rest to maximize paddling power efficiency and control, All Purpose Backpack for easy storage and transport, high pressure pump with inline pressure gauge, and repair kit.
Pro and Pro Carbon Components
Component
Value
Hull
$999.00
Total Values:
$1,482

$1536 Pro Carbon

Add to Cart For Our Lowest Price

$899 Pro
$999 Pro Carbon)
Your Savings:
$583.00

$537 Carbon

*Package Prices and FREE SHIPPING offer will remain in effect through Month End

Backpack
$99.00
Tall Back Seat
$99.00
choice of AB40 or AB50 Pro Carbon Paddle
$95 or $149
Hand pump
$49.00
Small Skeg Wing
$29.00
Repair Kit
$15.00
Tube Footrest
 We can't list prices here so click on 'Add To Cart' to see
our lowest price on a Sea Eagle RazorLite Pro or Pro Carbon.
Why don't we show the price?


393rl RazorLite™ Pro Package: a $1,502 value for just $899 
393rl RazorLite™ Pro Carbon Package:  (Pro Carbon Paddle(AB50) substituted for AB40 Paddle) A $1,556 Value for  just $999

FREE Shipping
3 Year Warranty
2 Pack of Roomy  Dry Bags..a RAZORLlITE must have!

2 Pack of Dry-Bags(20L &  10L). We've been looking for a couple of inexpensive Dry Bags that are compact when not in use and big enough and dry enough when they are in use.  These Two Big 10-L and 20L Dry-Ba are made from 100% Waterproof Material and include an extra long shoulder straps. Great for kayaking, fishing, rafting, swimming and their a great gift idea.We think this Dry-Bag 2-Pack is the perfect answer. 
Conveniently separate your vital equipment. A secure and practical way to organize and carry your things.

Store clothing, food and general equipment while kayaking, and other outdoor activities.

DRY BAG MAIN FEATURES: 100% Waterproof and Safe Protection, the dry bag can protect your camera, clothes, wallet, glasses, hat and documents or other valuables from water, sand, dust and dirt.

COMES IN 2 SIZES OF DIFFERENT COLORS: Yellow 10L size dry bag: 15.3 x 7.9 inches ; Blue 20L size dry bag: 17.7 x 9.4 inches.

ADJUSTABLE SHOULD STRAP: All our dry bags have straps – 10L Dry Bag has 1 strap and 20L Dry Bag has 2 straps. It allows you to adjust the length as you need. The strap is easily removable and adjustable.

2 IN 1 PACK: 1 x 10L ( yellow ) dry bag + 1 x 20L ( blue ) dry bag

SIMPLE TO USE: 1. Put your wallet, money, clothes, cell phone and keys etc in the dry bag; 2. Fold the edge opening for 3 – 5 times; 3. Lock the buckle at the top of the bag; 4. Whilst creating a handle.

Was $44.99 now only $39.99



---