Sea Eagle President Cecil Hoge has a fertile mind and consequently you'll find Cecil's creative and innovative marine design talent behind many of Sea Eagle's current product line-up so it comes as no surprise that Sea Eagle design team will be adding some remarkable new products in early 2017 designed to temp you.
Enjoy!
---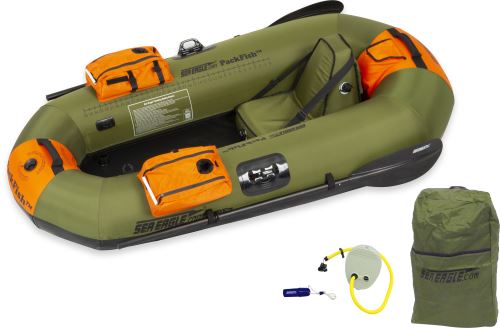 The Sea Eagle PackFish7™ is a unique, ultralight, incredibly portable, one man fishing boat that can be used two ways: (1) fished for hours while sitting on the comfortable inflatable Deluxe Fishing Seat, (2) standing with the wooden floorboard which provides stable and ample standing area for both sight fishing and casting.
The hull weighs only 21 lbs. and fully loaded with optional  floorboard (the only option available), oars and seat a mere 32 lbs. It goes anywhere, sets up in under 5 minutes and can even be worn on your back! It's as simple as that! We call it the "grab and go fishing boat!"
*We can't list our lowest prices here so
click on'Add To Cart' above to see your PackFis 7
(Why don't we show the price?)
Deluxe (no floorboard)  

   $399 
Deluxe Package Includes
2017PackFishHull
DKS Seat Green
A42 Foot pump
AB254 Oar Sett
Small Repair Kit

Pro ( w/ Floorboard)

$439

 
Pro Package Includes all the Deluxe Options plus Optional Floorboard
Shipping: (FREE if you order by month end)

---
2. 385fta FastTrack™ Angler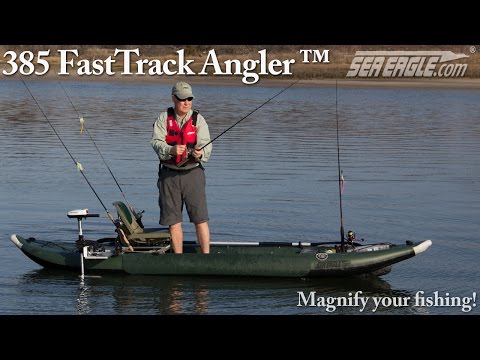 About the Fishing Kayak Series
I was thinking, what would happen if Sea Eagle took all the proven features of the top selling Sea Eagle FasTback Kayak and added some rod holders, and Crocodile Skin protection in the fish hook zones. Well they did and here it is, The New Sea Eagle 385fta FastTrack™ Angler Kayak is here! A true rugged inflatable fishing kayak. Designed for fishermen adventuring outside traditional methods to catch fish!



Full Length Non-slip Crocodile Hide EVA Foam Protective Padding

Full length, non-slip, crocodile hide EVA foam protective padding on floor and pontoons. Prevents slippage while providing extra protection against punctures and lacerations from fish, hooks and fishing tools.



Built-in 36″ Fish Ruler

The 385fta FastTrack™ Angler has a conveniently located built-in 36″ Fish Ruler. No more worrying about forgetting, losing, dropping, rusting or the malfunctioning of one of your most important fishing tools!
---
3. SUPs / Fishing Inflatable SUP / FishSUP™ 126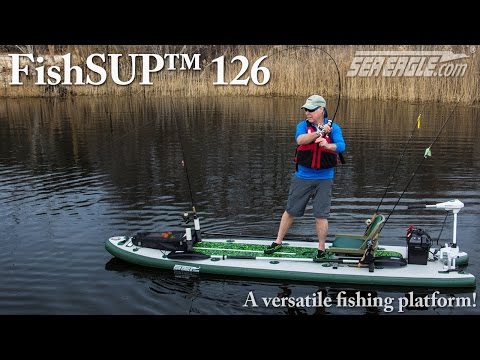 ---
2017 HOT SPRING ALE on all
KAYAKS, SUP'S, and FISHING B
---
NeedleNose SUP
The language below is taken verbatim from the blog link above  All three of three are  now in production and will be available in May 2017. Pricing will be very close to the existing pricing on similar products offered on InflatableBoats4Less.com.
"It really is the same as our standard 12′ 6″ NeedleNose. It was 4″ narrower in order to increase speed. We were building this new model specifically for young lady in Okinawa named, Marta Hogan. She is an avid SUP racer and wanted to use our board for SUP races around Asia – you can see her picture below.
The board we designed for Marta was not only narrower, it has an Am
erican fin box without the two side skegs we usually have and it was missing the stainless steel D-rings we normally have for those who want to use a seat and the nylon D-rings and elastic cord we have to for those who want to be able to stow gear. This was because Marta wanted the board as light as possible and wanted the ability to change out skegs for different racing conditions. Other than that it is essentially the same craft and the same shape, although considerably narrower. The prototype looks beautiful, but I very worried that it will be unstable on the water. Going faster will not help if the paddler cannot stand on it."
Fishing FastTrack
"We move on to the third prototype which is our new fishing FastTrack. This is a fishing version of our Sea Eagle FastTrack. It features what we call "Crocodile" EVA – this is a 1/4″ thick foam padding on the side pontoons and on the cockpit floor. I decided to put this EVA padding on to protect against fish hooks and fish fins. Of the two, fish fins are far more likely to cause puncture problems, by the way. In looking at the prototype made for us, we immediately decide that we should use more of the "Crocodile" EVA since it is relatively cheap, very durable and looks really cool. Accordingly, we tell Chris Jung that we want the EVA to extend further down and around on each sides of the pontoons."
Sea Eagle FishSUP

"When the swivel seat was assembled on the board, my brother John, Ryan, Mrs. Zhong, Ms. Wang and some of the factory technicians began to understand how this strange shaped SUP would work. It was a FishSUP, hence the name, something you could sit on in the swivel chair and fish, something you could stand up and cast and fish from. Something you could paddle and something you could motor with a small electric motor.

I was very happy with the way that the prototype came out. Of course, it still remained to   test this craft on the water and see what it could do. Three weeks later, back in States, we did just that and, as I expected, it was very stable, paddled well, was easy to stand or fish, and motored really nicely. Of course, in WeiHai I did not know that. I only knew the prototype looked good to me."